This is an archived article and the information in the article may be outdated. Please look at the time stamp on the story to see when it was last updated.
OKLAHOMA CITY – There has been a lot of concern about the Ebola virus spreading through the United States.
The Oklahoma State Health Department says they have received numerous calls from residents wondering if they will catch the virus from being out in public.
One main concern is the transmission of Ebola through patients who are coughing or sneezing.
"During this time of the year, many people will have sniffles, sneezes, and coughs but persons should not be concerned that these might be signs of Ebola," the department's website says.
Instead, experts say if a person is sneezing and coughing, they likely have allergies or the flu.
While the flu is a threat to your health, employees are the Oklahoma State Department of Health say there are simple ways to prevent catching the virus.
The flu vaccine can help your body fight off the flu and is available now.
Officials say the symptoms of the Ebola virus begin with fatigue, headache and fever.
It will then progress to abdominal pain, vomiting, diarrhea and possible bleeding or bruising.
"Influenza is primarily spread person-to-person by contacting respiratory droplets containing the flu virus. In contrast, transmission of Ebola virus requires direct physical contact with the blood or body fluids of someone who is ill with Ebola virus disease," the website said.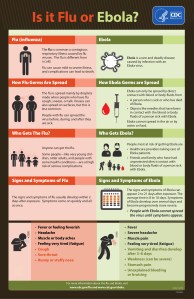 The Centers for Disease Control and Prevention have created a chart that shows the difference between influenza and Ebola.
If you would like more information on the difference between the flu and Ebola, visit the CDC's website.