This is an archived article and the information in the article may be outdated. Please look at the time stamp on the story to see when it was last updated.
In January:
Airman reunited with lost dog at homecoming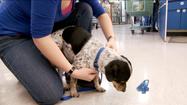 OKLAHOMA CITY—When our troops return from overseas, they usually have a loved one waiting for them when they come home. However, one airman got a welcome home that was 17 months in the making.
Senior Airman Crystal Tucker loves her dog Mickey, who tends to get into a little trouble now and again. Nearly a year and half ago, the little four-legged escape artist made his out of the backyard, and his collar.
For weeks, Tucker and her family posted missing posters and searched high and low for this rambunctious pup.
Tucker said, "I resigned myself to thinking that he had just found another home and he was in good hands."
After no luck finding Mickey, she was deployed to Germany with the Air Force and didn't know if she would ever see Mickey again. Mickey did make an appearance but this time it was to a concerned citizen.
Eric McCune with The Bella Foundation said, "One night, I got a knock on the door and he said 'I just saw this dog get hit by a car and I know you rescue animals. Can you guys help?"
McCune and The Bella Foundation took Mickey and put him up for adoption. For more than a year, Mickey saw family after family but no one ever claimed him.
Even though Mickey had been missing for over a year, Tucker decided to look one last time before she came home.
She said, "One last time last week, before I came home and sure enough, three pages in, there he was."
"He was just waiting for his mom to come home," said McCune.
Tucker is not letting this bundle pull another great escape any time soon. Mickey is now the proud owner of a microchip, which could reunited the pair the same night that he disappeared.
In February:
Neighbor helps save family in house fire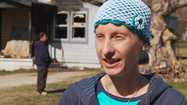 SULPHUR, Okla. — A Good Samaritan helped a family escape from a burning home. Emily Clark was on her way to work when she noticed a house on fire Monday morning. The front portion of the home was engulfed in flames.
Clark says another woman helped her open a back door, which was padlocked shut, so the family could escape.
"We went inside and kind of woke them up and everybody sort of got up and started getting outside," Clark said.
The family tells us they did lose some valuables, but they are thankful everyone safely made it out.
"We don't know any of these people so we're just real thankful that they did come help us because our kids were in there," victim Crystal Berryhill said.
Berryhill says her husband and two young kids were inside the home at the time of the fire. According to Berryhill, it is still unclear what sparked the flames.
In March:
In Your Corner fan drive to cool Oklahoma

OKLAHOMA CITY — Our In Your Corner team is helping Oklahoma families stay cool this summer.
We're teaming up with the Salvation Army, Bricktown Rotary Club, Rococo Restaurant and Wine Bar and OG&E to raise money and collect new fans.
The sweltering temperatures are all the state expects for the next few weeks and for some living without air conditioning, the dreadful conditions will prove life-threatening.
The Salvation Army is currently out of fans to help those on a fixed income living without air conditioning; they are in desperate need of donations. Sue Bailey relies on a single, worn out ac unit to cool her entire home.
"I mean, in our room it gets hot. It's an older house," Sue said. "There's no insulation. We can't even sleep at night."
Sue was diagnosed with Lupus and is in a bitter battle with cancer. Her family survives on next to nothing and depends on the Salvation Army for assistance.
"These are hardworking people," Salvation Army spokesperson Heide Brandes said. "People just struggling to make ends meet. A lot of them have disabilities."
Recently OG&E helped kick off the Salvation Army's annual fan drive with a large boxed fan donation.
"We know they're people here, the low-income and elderly, who can struggle in the summer, struggle in the heat, struggle with paying their
electric bills," OG&E spokesperson Kathleen O'Shea said.
Ace Hardware donated another 100 fans.
Only certain groups can qualify for a new fan:
Senior citizens age 62 and older
Families with infants under 6 months of age
The disabled with chronic illnesses
Sue was a perfect candidate.
"A lot of sleeping, comfortably," Sue said. "I'll have my daughter in there with us, even though she's older and doesn't want to be."
In April:
Pay it Forward: The ultimate gift

A metro woman gives a kidney to her long-time best friend. See this tearful Pay It 4Ward. Pay It 4Ward is a program through which KFOR-TV viewers can help someone they know who could use extra cash immediately. Each week someone will receive $400 cash because one of their friends or co-workers wants to "Pay It 4Ward."
In May:
Youngest Oklahoma baby to get gift of hearing

OKLAHOMA CITY — It's a big day for 9-month-old Lauren Morgan. Doctors found out she was deaf when she was six days old. Now her life is changing; she just got a cochlear implant.
Audiologist Jace Wolfe, from Hearts for Hearing of Oklahoma City, said Lauren is the youngest patient they've ever had.
"Most children don't have their cochlear 'til one year's of age. It was textbook perfect."
The true test, her mother's voice. Melinda Morgan cries tears of joy as her daughter responds.
"To actually hear sounds and look towards them is amazing," she said.
Wolfe said her surgery and implant activation went perfectly. Lauren's response, priceless.
"What just happened never gets old seeing a child hear for the first time; it's always an emotional experience."
Lauren's implant is carefully calibrated. She will go to an auditory therapist once a week and check back with Hearts for Hearing numerous times for check-ups. In three months, hopefully, she will get her second implant.
In June:
Kindergartner saved baby brother from drowning

Romeo and Magness are like every other little boy, curious adventure seekers. But a hole in a fence, an abandoned swimming pool, and croaking reptiles lead them straight into harm's way.
Grandfather, Gene Eck said, "I told them not to go near there. Of course I've said that before. You know how that is. They're curious."
Three-year old Magness had been told time and again to stay away from the yard next door, and never get near the swimming pool. But a family of frogs was just too enticing.
When he reached into the Logan County pool to grab one, he fell in, head first. His big brother, only six himself, never panicked.
Romeo told us, "I do know how to paddle swim."
Romeo did the right thing by not jumping in. Instead, he grabbed his floundering sibling by the arm, and pulled him to safety.
Mr. Eck said, "I'm just thankful he was able to pull him out of there."
It was a happy ending to this near drowning, but EMSA medics predict many more emergency calls as summer begins.
Medic, John Graham said, "Swimming pools, bodies of water are an attractive nuisance. They want to see what it is and they'll do amazing things to get to those areas. So really, the #1 thing is paying attention and always be there."
Gene Eck has taken every precaution to ensure his curious grandkids never sneak into the neighbor's backyard. He's put up a barrier over the hole in the fence, and has had another talk with the boys about the dangers next door. He also insists the inquisitive kids will never be unsupervised again.
In July:
Oklahoma volunteers head out to help with hurricane

OKLAHOMA CITY — Seven American Red Cross volunteers from Oklahoma are headed to the Gulf Coast to help prepare for tropical storm Isaac. The American Red Cross of Central Oklahoma said the volunteers will be spread across the region.
Three are headed to Montgomery, Alabama. One volunteer is going to Baton, Rouge, Louisiana. One volunteer is already in Florida.
Two additional volunteers are driving an emergency response vehicle to a staging area in Mississippi, where they will be assisting the Red Cross. The Oklahoma volunteers are prepared to stay several weeks, if necessary.
Volunteers can help those in the region stay in touch with family and friends if they become separated by using the Red Cross Safe and Well website is a secure and easy-to-use online tool that helps families connect during emergencies.
In August:
A Tale of Two Okie Towns

DUKE, OK — They gathered on a Monday afternoon on an empty lot. Even the kids wore period clothing. Everyone came for a unique, outdoor history lesson about their town. "It truly was a tale of two cities," announced one narrator over a wind distorted sound system.
The speakers began unreeling a long tale about how Duke actually used to be two places, East Duke and West Duke, separated by a few hundred yards and miles of hard feelings.
Longtime resident Mary Green was a phone operator and used to eavesdrop on the old stories. "There was a feud," she said. "I know you won't believe this but there were two men who didn't get along. Usually it's the women who don't get along but this time it was the men."
For a period of 5 years these two business owners and their respective followers fought to see who would become the real Duke. Their stores, schools, and dozens of homesteads rode in the balance.
Jon Darby's grandfather was right in the middle of it. Darby's furniture is located, officially, in East Duke, which is just plain old Duke now.
The feud ended with a unique ceremony in 1912. "The main thing was that it got solved," he said. "The hatchet got buried."
Poor West Duke was located on a flood plain. Finally, on a warm Summer day in 1912 both communities gathered and they really did bury a bloody hatchet which still lies beneath Highway 62.
95 year old Cleo Bearden grew up with all the old stories too. "I think it worked," she said of the original ceremony. "There isn't anything left of West Duke now."
Current town leaders commemorated the original hatchet burial with another funeral on a Monday in late September. They performed the ceremony twice that day in front of the old Methodist church. They celebrated a century of peace and progress. The hatchet, now a unique symbol instead of a weapon of choice.
In September:
OKC ranked top 10 for job growth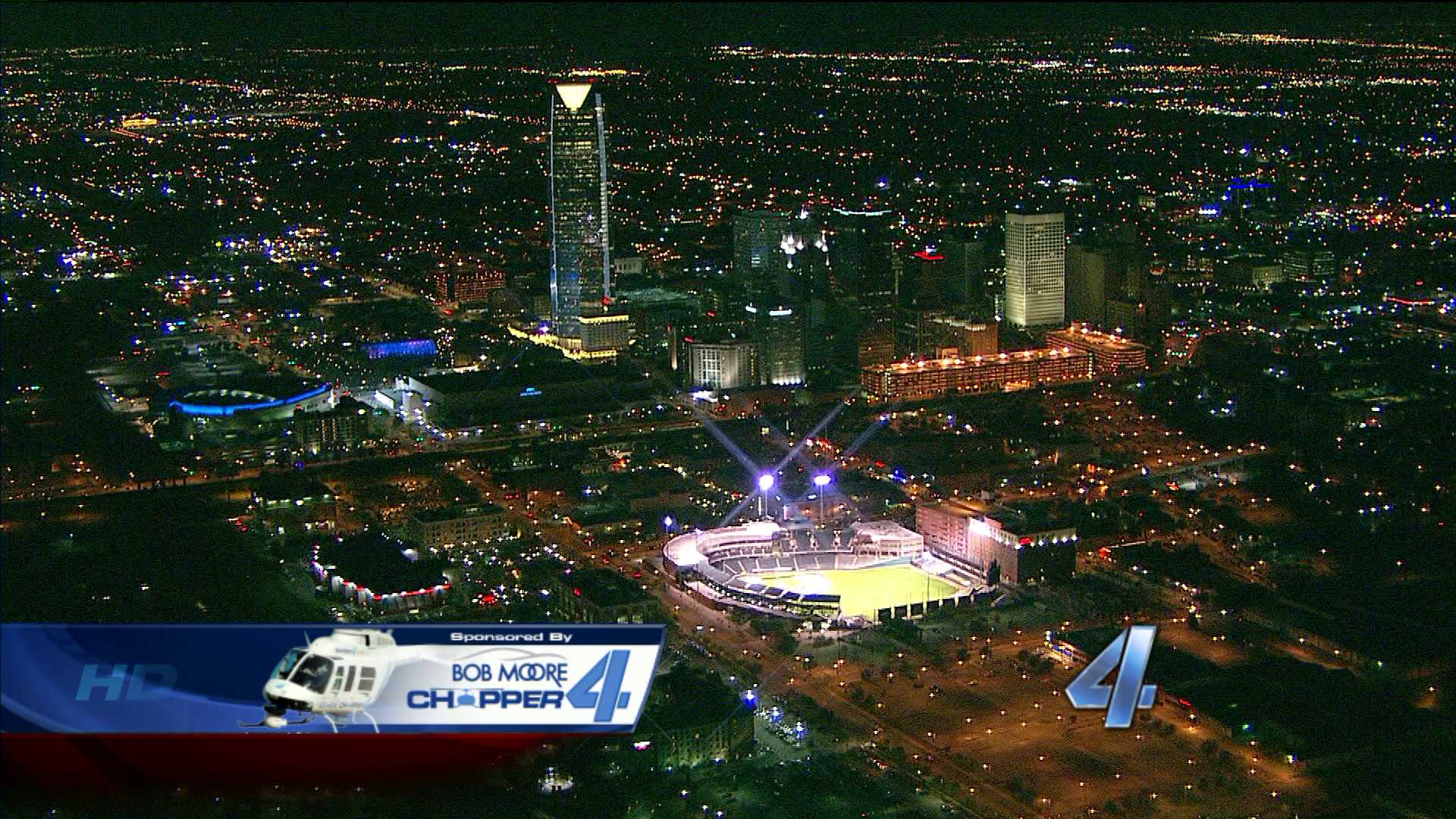 OKLAHOMA CITY — Good news for Oklahoma City; compared to others in the country, OKC has made the list of top 10 cities for job growth. That's according to a new evaluation by CareerBuilder and Economic Modeling Specialists.
It's good news for our city as it looks forward to more growth in the coming years. Oklahoma City is a city on the move. From sports teams like the Thunder and the Barons to new construction in the downtown area things are only looking up.
Roy Williams, with the Greater Oklahoma City Chamber, said, "We believe Oklahoma City is at a place it's never been before and there's nothing on the horizon that should slow that down."
The new report credits the energy industry and companies like Chesapeake, Devon, Continental Resources and Sandridge for the growth.
Ray Gonzales, with Continental Resources, said, "Definitely a lot of growth. We've got about 60 positions open right now."
Continental Resources is just one of the many companies currently adding jobs to the metro.
Ray Gonzales said Continental Resources is looking ahead to the future and hopes to add even more jobs in the next five years.
Williams said, "We continue to have a strong economy. We continue to create jobs. We continue to see the unemployment rate stay low."
The Oklahoma City Chamber said there's also major growth in the areas of aviation, aerospace engineering and the biosciences.
Williams said, "When all of those work in tandem they tend to create a lot of secondary jobs."
City officials believe even if one industry begins to struggle Oklahoma City is seeing enough growth across the board to sustain our city for years to come.
Williams said, "We believe we have a long-term foundation for growth with jobs and the economy in Oklahoma City."
In case you are wondering what city came in at number one for best job growth, that title went to San Jose, California, mostly due to technology-related jobs.
In October:
Brad Edwards Warmth 4 Winter program

OKLAHOMA CITY – Now that the weather is getting colder, it's time to think about the Brad Edwards Warmth 4 Winter program. Brad's daughter, Ashton Edwards, along with County Commissioner Brian Maughan and the Salvation Army kicked off the Brad Edwards Warmth 4 Winter coat drive at the South Oklahoma City Rotary Club's meeting.
In November:
IYC team helps veteran get heat for first time in years

OKLAHOMA CITY – Christmas came early for an Oklahoma disabled veteran. For several months, our In Your Corner team's been working tirelessly to help Cornell Gallagher, a veteran who's been living without running water and heat for some time now.
He says he was forced to shut off his utilities several years ago after the Federal Government slashed his VA benefits. When we first met Cornell, he was borrowing water from a neighbor, showering at the VA hospital and using a single space heater to heat his whole house.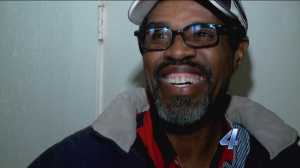 Through it all though, Cornell never stopped smiling.
He said, "There are others out there who are at a worse place than I am."
With the assistance of the VA and Upward Transitions, we helped Cornell apply for food stamps, got him a haircut, new winter clothes and medical attention.
Meanwhile, Cornell's church family and Upward Transitions pitched in to get Cornell's utility bills caught up. Courtesy Plumbing repaired the water line.
The home's water heater wasn't up to code either, so Ferguson Enterprises donated a brand new one.
"Something deep down inside, you just want to give to other people," Ferguson Enterprises sales executive Preston Williams said.
Our one final task was turning on Cornell's gas. Zach Houston and Courtesy Plumbing hooked up the water heater, ran a gas pressure test, re-routed gas lines and repaired leaks.
"I was under the house, in the attic, on the roof, had to re-pipe some of the gas distribution," Houston said.
City inspectors made sure the gas line was safe and ONG did the rest!
"We got on the horn with everybody last night and said here's what's happening," ONG spokeswoman Cherokee Ballard said. "Channel 4 has done some great things to get a plumber and all this work done to get him some heat in this house, so we jumped in last night, started to doing research and then came out this morning."
Cornell turned on his heat for the first time in more than four years!
"Wow! I just can't find the words," Cornell said.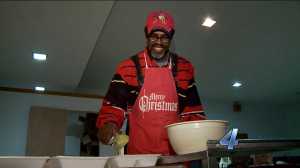 Cornell was already paying it forward, preparing meals at his church for the less fortunate, something he's done for six years now. With each scoop, he serves up a helping of love and community.
He said, "One of my mottos of the years has been to not allow my disabilities to come my total inability, to give back and do something."
In December:
Dog tossed off bridge, left to die finds new home

OKLAHOMA CITY – A heartwarming update to a horrific case of animal abuse. A dog severely injured after being tossed off a highway overpass finds a new home.
Two weeks ago someone threw the German Shepard from a bridge at S.E. 59th onto I-40. The state trooper who first found the dog injured on the side of the road adopted the animal.
The dog, named Rookie, will have to rest and recover for about three months but he is expected to make a full recovery. Sporting a few bandages and wearing a collar, Rookie is a popular new addition to the Fisher family.
"My 10-year-old daughter is already buying him gifts and bones and a big pillow," OHP trooper Jennifer Fisher said.
Rookie is lucky to limp out of the hospital alive. Trooper Fisher, the first to arrive on scene after someone tossed the dog off the bridge, found Rookie suffering serious leg injuries.
"I think I bonded with him there," Fisher said.
In the days that followed, Rookie underwent surgery to repair a shattered leg and knee. One visit to Rookie in the hospital made Jennifer's decision to adopt an easy one.
"I went to see him and said his name and he sat right up," she said. "I knew we had to take him home and take care of him."
The Humane Society of the United States covered the thousands of dollars for Rookie's medical costs. At the same time, the person responsible for the abuse remains a mystery.
The Humane Society is also offering a cash reward to help catch the person who threw Rookie off the bridge, $7,500.
"We want to support law enforcement and go after people who commit acts of animal cruelty," Humane Society spokesperson Cynthia Armstrong said.
Authorities would really like to hear from the woman who was an eyewitness to the crime and called 911. Anyone with information on the case can call the Oklahoma County sheriff's office.