This is an archived article and the information in the article may be outdated. Please look at the time stamp on the story to see when it was last updated.
A 12 year old boy is transported to an area hospital Tuesday morning after making a daring escape from his burning home in Bethany, officials said.
12 year old Brayden Judkins woke up around 10:30 a.m. as a fire was spreading throughout his home in the 4600 block of Willow Ave, Bethany Fire Battalion Chief Keith Cole said.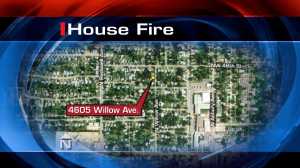 He was home alone because his mother was at work.
A mail carrier saw smoke coming from the house and called 911, but Brayden couldn't wait for help.
The fire was blocking the front door, so he busted through his bedroom window, crawled over broken glass and got out.
Moments later, his neighbor heard the boy banging on his front door - bloodied and desperate for help.
"It was pretty tremendous and scary," neighbor Dakota Mathis said.  "Must've been something for him, but he's a really good kid."
"(He was) kind of, just, really terrified," Tyler Mathis said, "because I've never seen anyone like that before, other than movies and tv shows and stuff like that."
Brayden was transported to an area hospital with cuts from crawling through that window, as well as smoke inhalation.
The fire's cause is being investigated, Cole said, but officials do not suspect anything suspicious at this time.