This is an archived article and the information in the article may be outdated. Please look at the time stamp on the story to see when it was last updated.
OKLAHOMA CITY – Two Republican former Oklahoma state representatives have been named directors of U.S. Department of Agriculture agencies in Oklahoma.
The U.S.D.A. announced Saturday that former Rep. Scott Biggs of Chickasha was appointed by President Donald Trump as Farm Service Agency state director and Lee Denney of Cushing was named Rural Development state director.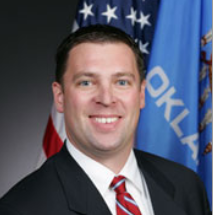 Biggs announced his immediate resignation from the state House on Thursday.
"I believe I can do much more for our state as I work to promote the Agriculture Industry in Oklahoma, which has always been and will continue to be an integral part of my family's heritage," Biggs said in his resignation letter.
Denney was term-limited and did not seek re-election in 2016.
Farm Service Agency state directors help implement U.S.D.A. policies in planning, organizing, and administering FSA programs in their states. Rural Development directors work to help improve the economy and quality of life in rural areas.