This is an archived article and the information in the article may be outdated. Please look at the time stamp on the story to see when it was last updated.
Two Iowa police officers were found fatally shot in their squad vehicles at separate intersections in the Des Moines area early Wednesday, and a suspect was taken into police custody following an urgent hunt for him hours later, authorities say.
Scott Michael Greene, 46, of Urbandale, was found on foot late Wednesday morning west of Des Moines in Dallas County, said Des Moines police Sgt. Paul Parizek. Police were taking him to Des Moines; further details about his detention weren't immediately available.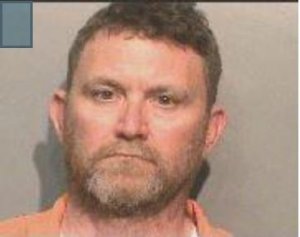 News of Greene's apprehension came more than seven hours after two police officers were found fatally shot at intersections less than 2 miles apart.
"In all appearances it looks … that these officers were ambushed," Parizek said.
Police discovered the first officer around 1:05 a.m., when someone reported shots being fired. Responding police found the body of an Urbandale officer, still seated in his squad car, at an Urbandale intersection just northwest of Des Moines, Parizek said.
Twenty minutes later, as officers responded to the Urbandale shooting, a Des Moines police officer was found shot at an intersection in Des Moines, southeast of the first scene.
That wounded officer — who, like the Urbandale officer, was seated in his vehicle — later died at a hospital, Parizek said.
"On the surface right now … it doesn't look like there was any interaction between these officers and whoever the coward is that shot them while they sat in their cars," Parizek said, holding back tears. He said neither officer had radioed about a confrontation.
The officers' names weren't released.
'These guys were gunned down … doing nothing wrong'
Detectives named Greene as a suspect after chasing down tips and other leads, Urbandale police Sgt. Chad Underwood said, without elaborating.
Investigators believe Greene has information that "could be vital to what happened this morning," Parizek said before Greene was detained, adding that detectives "told us he's a suspect."
Parizek, before Greene was taken into custody, said "there is clearly danger if you're a police officer."
"These guys were gunned down sitting in their car, doing nothing wrong. So, there's definitely some danger out there. There's somebody out there shooting police officers. We hope we find him before anybody else gets hurt."
Tearful embrace as Des Moines area mourns again
The shootings bring renewed pain to a community that recently mourned the deaths of two other Des Moines police officers. They were killed in March when their vehicle was hit head-on, police say, by a driver going the wrong way.
As news of Wednesday's shooting spread, a woman gave bottled water and other supplies to an Urbandale police officer who was standing along a street, and tearfully gave him a hug, video from CNN affiliate KCCI showed.
"I want you to go home to your families, because I want my dad to come home to me and I want my friends to come home to me, and I'm sorry," she said.
Highest number of officers shot dead since 2011
Wednesday's deaths bring to at least 51 the number of police officers fatally shot in the US and Puerto Rico in 2016. That's the highest one-year total since 2011, when 73 were shot dead, according to the National Law Enforcement Officers Memorial Fund.
They also come just months after two high-profile deadly surprise attacks against police officers in Texas and Louisiana.
On July 7, a gunman shot and killed five police officers in Dallas during a protest of controversial police shootings of black men in other states. The Dallas shooter, who police subsequently killed, said he was upset with the other shootings, police said.
On July 17, gunman Gavin Long shot six law officers, killing three, in Baton Rogue, Louisiana, police say. A SWAT officer subsequently shot and killed Long.
Long apparently visited Dallas after the shootings there, posting a YouTube video July 10 in which he spoke of the protests, and a notion that victims of bullying need to resort to brute force.
The Baton Rouge and Dallas shootings came after the controversial shooting deaths of two black men by police officers, including that of Alton Sterling in Baton Rouge on July 5 and Philando Castile in Minnesota a day later. The shootings spurred protests across the country.
'I don't even know where to begin, how bad this year is'
The shootings come more than seven months after Des Moines police officers Susan Farrell and Carlos Puente Morales were killed in the March 26 wrong-way crash, according to the National Law Enforcement Officers Memorial Fund.
"I don't even know where to begin, how bad this year is (for Des Moines police)," Parizek said, after a reporter asked him how officers can prepare to do their jobs amid another tragedy. "This is what we do. We come in, day in, day out. We go out there and we provide the same level of service regardless of what's going on in our personal or professional lives."
"We know we've got the best community. We saw that after Carlos and Susan were killed, and I certainly expect we're going to see the same thing coming," he said.
The Urbandale Police Department, a force of about 50 officers, said it believes this is the first officer it has lost in the line of duty.
"An attack on public safety officers is an attack on the public safety of all Iowans," said Ben Hammes, spokesman for Iowa Gov. Terry Branstad. "We call on Iowans to support our law enforcement officials in bringing this suspect to justice.
"Our thoughts and prayers go out to the families of the police officers who were tragically killed in the line of duty as well as the officers who continue to put themselves in harm's way."