This is an archived article and the information in the article may be outdated. Please look at the time stamp on the story to see when it was last updated.
ENID, Okla. — Back on Aug. 5, an Enid pizza delivery man was robbed at knifepoint after attempting to make a delivery. The suspects also stole his car.
The two suspects wanted for the theft are in jail in Knoxville, Tenn.
Toni L. Black, 34, and Bradley W. McGlothlin, 22, were arrested in the east-central Tennessee city on drug and theft charges.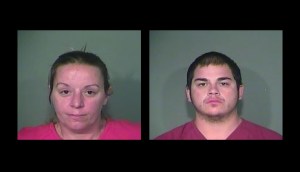 According to the Knox County Sheriff's Office website, both will appear in court today. Black will appear as a co-defendant on a charge of possession of drug paraphernalia. McGlothlin will appear as a defendant on charges of fugitive from justice, theft of property or services valued at $500 or less, and possession of drug paraphernalia.
Black's bond is set at $1,000 on the theft charge and $1,500 on the drug charge. McGlothlin's bond is set at $1,500 on each of the two two charges.
Both were wanted on Garfield County warrants for conjoint robbery unauthorized use of vehicle. Those charges stem from allegedly forcing Chance Stevison at knifepoint inside a Sunridge Estates apartment when he went there to deliver a pizza.
Stevison told police when he went to Sunridge Estates Aug. 5, 2013, to deliver a pizza, he knocked on the door at the address where the pizza had been ordered and the man and woman who were occupants of the house called through the door to ask who it was.
"I knocked on the door and they didn't first answer the door, they just called through the door, 'Who is it?'" Stevison said. "I told them it was Domino's. They opened the door, grabbed my shirt and pulled me through the door, then pulled out knives."
According to an Enid Police Department report, the man told Stevison he needed his car to go to Louisiana to see his child in the hospital. Stevison told him to take the car.
"They had it all planned out," Stevison said. "They had baskets with laundry and things right by the door."
Stevison reported the pair removed the battery from his cellphone so he could not call 911, and also took about $30 he had in his pocket before loading their possessions into his 2004 Isuzu Rodeo and driving off.
EPD Capt. Jack Morris earlier said Stevison's car was found a few days later in Fort Worth, Texas. Stevison said the car was badly damaged.
Here is the story we originally posted on the robbery:
To read more on this capture from the Enid News and Eagle visit here:
By Phyllis Zorn, Staff Writer for the Enid News and Eagle