This is an archived article and the information in the article may be outdated. Please look at the time stamp on the story to see when it was last updated.
OKLAHOMA CITY – The Oklahoma City Fire Department battled a large fire at a strip mall early Saturday morning.
Crews arrived to the scene near W Britton Rd. and N. MacArthur Blvd. around 3:20 a.m.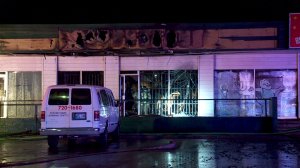 Firefighters arrived at the scene and saw smoke and heavy fire at the rear of one end of the strip mall.
OKCFD then requested a 3rd-alarm response due to the amount of fire present, the size of the complex and the possibility of an extended operation.
The main body of the fire was extinguished with "elevated master streams."
Other firefighters made entry into an attached child development center immediately to the south, and were able to stop the progress of the fire from there.
The primary damage was confined to two suites on the north end of the strip center, thanks to how quickly firefighters worked. 
The remainder of the complex had minimal damage with two suites sustaining water damage and light smoke exposure to the rest.
Oklahoma City Fire Investigators determined this to be "an accidental fire and electrical in nature."
Thankfully, there were no injuries.
The complex valued at $867,825 and structural damage was estimated to be $250,000.