This is an archived article and the information in the article may be outdated. Please look at the time stamp on the story to see when it was last updated.
OTOE, Okla. – A 4.2 magnitude earthquake shook northeast Oklahoma on Monday night.
The earthquake rattled just before 10:30 p.m. in Otoe, near Stillwater. Some said they also felt it in Tulsa.
Let us know if you did, through our Instagram Stories poll: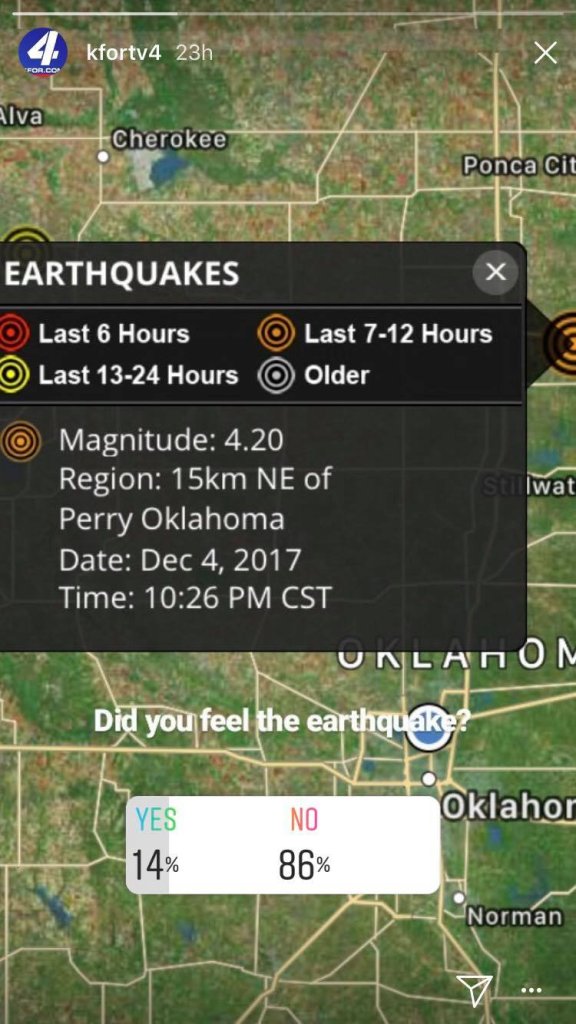 A second, 2.8 magnitude, was reported shortly after in the same area.
The state had another two quakes earlier Monday.
The first was a 2.9 overnight in Horntown, near McAlester. The other was a 2.8 during the evening in Carmen, near Enid.
Earthquake!!! @kfor

— Corey Inmon (@CoreyInmon) December 5, 2017
Earthquake. #ouwx @4WarnStormTeam

— Grace Meyer (@_gracemeyer) December 5, 2017
@kfor earthquake near Stillwater??

— kaci 🍂 (@kaciamberbrown) December 5, 2017
We definitely just had a earthquake. @kfor

— NIAAAA (@0hSOfAB) December 5, 2017
Pretty large earthquake just hit in downtown Stillwater. It rattled the doors and had felt like the ground was rippling beneath my feet. #earthquake

— //ormon//afia (@mormonmafia88) December 5, 2017