This is an archived article and the information in the article may be outdated. Please look at the time stamp on the story to see when it was last updated.
WASHINGTON, D.C. – A 5-year-old girl is voicing her opinion on clothing options at GAP.
Alice Jacob, along with the help of her mom, wrote the company a letter saying she was unhappy with all the "pink and princess and stuff like that."
"I like cool shirts like Superman and Batman shirts and race car shirts, too," she wrote. "All your girl shirts are pink and princess and stuff like that. The boys' shirts are really cool. They have Superman, Batman, rock 'n' roll and sports. What about girls who like those things like me and my friend Olivia?" Alice said.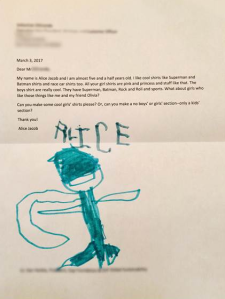 Beth Jacob, Alice's mom, told TODAY her daughter has always had a big say in what she gets to wear.
"Since the time Alice was a toddler, she has had strong opinions about what she wants to wear," Jacob said. "She's a kid who has always loved animals, especially kind of unlovable animals like snakes and spiders and all kinds of bugs. She loves dinosaurs. The challenge I faced as a mom was that every time I went to buy clothes for her, the only ones she liked were in the boys' section."
Jacob said she doesn't have any issues with buying boys' clothes, but says it's now harder to find clothes as Alice gets bigger.
"The boys' (clothes) are cut big and baggy," Jacob said. "The shorts are really long; the shirts are really wide."
Alice asks the company if they can get rid of the gender sections and combine them.
"Can you make some cool girls' shirts please? Or, can you make a no boys' or girls' section- only a kids' section?" she said.
The letter was mailed to GAP. They sent Alice a personal response back.
GAP sent TODAY a statement and said:
"At GapKids, we aim to celebrate all children and try to offer a wide range of styles and choices for girls and boys," the company said. "We love hearing directly from our customers and value their feedback. We are looking at how we can offer even more choices that appeal to everyone for future seasons."
Jacob says, she's just proud of her daughter.
"In as much as a 5-year-old can get it, she gets it," she said. "It kind of feels like the best thing ever. For a kid who has always wanted to wear her own thing, and it's not what the other girls are wearing… for her to be able to speak up and say, you need to make room for me, too… you can't ask for something better than that."
Fed up with 'pink and princess' shirts, 5-year-old girl writes letter to Gap https://t.co/E6e71OkyL9 pic.twitter.com/4zBcRIlxTP

— TODAY (@TODAYshow) March 21, 2017