This is an archived article and the information in the article may be outdated. Please look at the time stamp on the story to see when it was last updated.

UPDATE: MUSTANG, Okla. – If you're a parent, or if you've simply seen a woman give birth to her baby on television, you know how chaotic and painful that can be.
NewsChannel 4 first told you the amazing story Thursday of a woman and her husband who had to deliver their baby alone. In all places, a Walmart parking lot.
The father, Jeff Ross, called 911. The paramedic on the other end of the phone talked him through the delivery.
Baby Berkley is snug with her parents now, but her journey into this world was far from easy.
You could hear the baby's mother, Brandi Ross, screaming in the background of the 911 call, "I need a ******* doctor!"
Her husband was driving at that point. It was after midnight on Wednesday. They were 30 minutes from the hospital, but their baby was on its way.
The only person to guide them through this was the man on the other end of the phone, Paramedic Derek Cordray.
"Can you see part of the baby?" Cordray asked.
Jeff told him, "She claims she can feel the head."
Cordray quickly told the man, "I need you to pull over and stop so I can get help to you."
The couple pulled into Wal-Mart.
Brandi looked back on the delivery in the hospital: "I was yelling at him to just park the freakin car and catch the baby because he wasn't cooperating," said Brandi. "He finally decided, once I showed him the head was there, that he would park the car and come get the baby."
"It was terrifying," said Jeff. "I had no idea what to do. At that point, I think adrenaline kicked in, and it's all a blur."
Cordray knows this is a dangerous situation. The baby or the mother could need serious medical attention.
It came down to the dispatcher telling the father what to do.
You can hear Jeff tell Cordray, "Oh my God, it's coming out."
Cordray told him, "Place the palm of your hand to the vagina, and apply firm but gentle pressure. OK?"
"With all that screaming, you hear him. It's hard for him to hear me," said Cordray.
Once the baby was out, EMSA Paramedic Aaron VanCamp arrived.
"We put Berkley with me, and I brought her in the truck," said VanCamp. "We warmed her up, got mother in the truck and reunited them and continued our trip to the hospital."
A father himself, cordray knows that feeling of holding your child for the first time.
"It's breath taking if you've never experienced it," said Cordray.
He says to help someone else have that feeling, "Is one of the most rewarding calls that I've gotten to take."
While mom did the work and dad delivered, they're thankful for the man on the phone.
"She came out and she's healthy, and it's a great story to tell her," said Brandi.
Earlier, NewsChannel 4 filed this report:

MUSTANG, Okla. – A 911 call captures the last frantic minutes before a little bundle of joy makes her grand entrance into the world.
Jeff: "My wife's water just broke. She's in labor. She doesn't think we're going to make it to the hospital."
On Tuesday night, Jeff and Brandi Ross rushed to the hospital at 4 p.m. and then at 6 p.m. when her contractions started.
After waiting for four hours, the hospital sent them home around 10 p.m.
Just a few hours later, they jumped in the car to head back to the hospital.
A few minutes into the ride they both realized the baby was not going to wait.
Brandi: "Baby, I don't want…I need a f****** doctor!"
Jeff: "She claims she can feel the head."
Brandi: "My water broke."
Jeff: "Her water just broke a couple of minutes ago."
When his wife's water broke, Jeff pulled into a Wal-Mart parking lot in Mustang, along State Highway 152.
Just seconds later, his daughter, Berkley Sullivan, joined them.
"I pushed one time and he caught her in the front seat of our car," said Brandi. "So that's how she joined us. Her initial hello was very quick."
Jeff said, "At that point, I think adrenaline kicked in and it's all a blur other than 'Here it is, oh my God, what do I do now?'"
Thankfully, EMSA arrived just 30 seconds later to take over for the exhausted couple.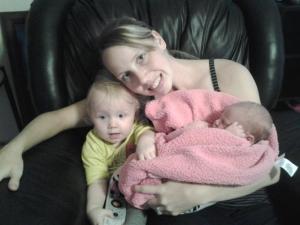 Berkley let loose her first cries as the ambulance pulled up.
Jeff: "Oh my God. I've got her but she's not crying."
Brandi: "Oh my God."
Jeff: "I've got her."
Brandi: "Come on, baby."
911 Dispatch: "I hear EMSA is coming."
Jeff: "She is completely out, we have her. She's moving. Yes."
All three are doing just fine now, even though they will never look at Wal-Mart quite the same way again.
"I wish it was another location," Brandi said. "But she came out and she's healthy and it's a great story to tell her, so it's fine now."
Jeff said, "Awesome, terrifying experience that I hope I never go through again!"
Berkley is Jeff and Brandi's second child; they have another 14-month-old daughter named Karli.
The couple continues to get gifts to welcome Berkley into the world.
One of their favorites is a gift from Jeff's co-workers, fittingly, a Walmart gift card.
You can listen to the full 911 call below: Warning: Graphic language that may not be suited for some users.