This is an archived article and the information in the article may be outdated. Please look at the time stamp on the story to see when it was last updated.
OKLAHOMA – Severe weather began rolling across the state Wednesday afternoon bringing hail, heavy winds, heavy rain and tornado warnings.
A Tornado Watch has been issued for central and western Oklahoma until 10 p.m. Wednesday.
Wednesday afternoon, a Tornado Warning was issued for Greer and Kiowa counties.
That tornado warning expired earlier in the evening.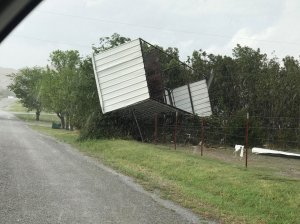 The storms continued to move east/northeast towards Caddo, Kiowa and Washita counties where another Tornado Warning was issued, but later expired.
A Tornado Warning was also issued for Cotton, Comanche and Tillman counties. This storm became extremely dangerous and the warning was extended until 7:45 p.m. and later expired.
The National Weather Service says 100 mph winds were reported near Frederick around 6:30 p.m.
630pm – winds over 100 mph have been reported near Frederick. This is a dangerous storm

— NWS Norman (@NWSNorman) May 2, 2018
Thankfully, so far, no injuries have been reported.
Tillman County officials say they do have reports of damage, but are still surveying areas.
Officials in Kiowa, Washita, Beckham, Caddo, Harmon and Jackson counties say they have no reports of any damage.
Will Rogers World Airport officials say all operations have been suspended until further notice due to the storms.
As severe weather moves into the WRWA area, the airport is taking precautions and moving people to the airport tunnel . All operations have been suspended until further notice. People should not come to the airport at this time. #okwx#okc

— Will Rogers Airport (@fly_okc) May 3, 2018
Some pics from minutes ago as #okwx passed the airport. Passengers have moved back into the terminal but severe weather continues to slow airline operations. Delays/cancellations should be monitored through your airline. #OKC pic.twitter.com/awoQvPM8p7

— Will Rogers Airport (@fly_okc) May 3, 2018
Storms moved into the metro around 8 p.m. Wednesday.
Just after 9 p.m., all Tornado Warnings were canceled.
The westbound lanes of the H.E. Bailey Turnpike near Newcastle were closed due to dangerous winds. Oklahoma Turnpike Authority employees at the Newcastle Gate were inside their tornado shelter.
The turnpike has since been reopened.
More than 1,000 people were without power in the Edmond and Oklahoma City area.
There are reports of flooding on the road. Turn around, don't drown!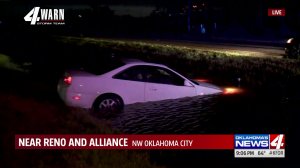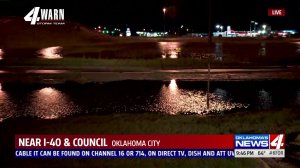 The Oklahoma City Fire Department also rescued a man whose vehicle came to a rest in a creek after he lost control near Lake Hefner Parkway and Hefner Rd.
Firefighters were able to tell the man to get on top of his car where a rope was thrown to him, and he was quickly pulled to safety.
Just after being rescued, the man's vehicle was swept away in the water and became entangled in trees.
Thankfully, there were no injuries.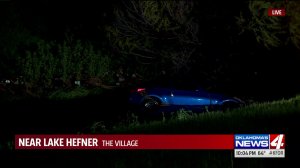 Tornado season in Purcell, OK @koconews @kfor pic.twitter.com/bbOmKO16GD

— Amily Clary (@AmilyClary) May 3, 2018
Pott Co Sheriff Mike Booth & his wife, Karen in their storm shelter watching @MikeMorganKFOR @kfor "So far, no damage reports here." pic.twitter.com/TdNpBh1FjH

— Lance West (@lancewest) May 3, 2018
Click here to view KFOR's Interactive Radar. 
To view all watches and warnings, click here.
Hail near Hollis, OK; Krista Schmidt

Katlin Goddard near Lookeba, OK

Missy Martin-Berry near Granite

Missy Martin-Berry near Granite

Marc Dillard near western/central Oklahoma

Mark Morgan near Hobart and Lone Wolf

Storm near Hammon, OK; Alexsis Thain

David Zebick

Rainbow after some light rain we had here in Weatherford- and wind has died down!😃😃

Jesse Cantrell near Weatherford, OK

2 rainbows east of Okarche

Shot in Lawton after the storms passed; Steve Crider

West Edmond near coffee creek and penn; Marlo Denton

Pretty Rainbow after the piedmont storm May 2 2018..at Waterloo and Sundance.