This is an archived article and the information in the article may be outdated. Please look at the time stamp on the story to see when it was last updated.
OKLAHOMA CITY — After completing a series of tests, the results are in.
The Oklahoma State Department of Education released the 2015 A-F Report Cards for all public schools in the Sooner State.
The majority of our state's schools received a "C."
However, 212 received an "A" and 183 got an "F."
But the state's top educator is saying the grades could be misleading and that the current grading system is not valid or reliable.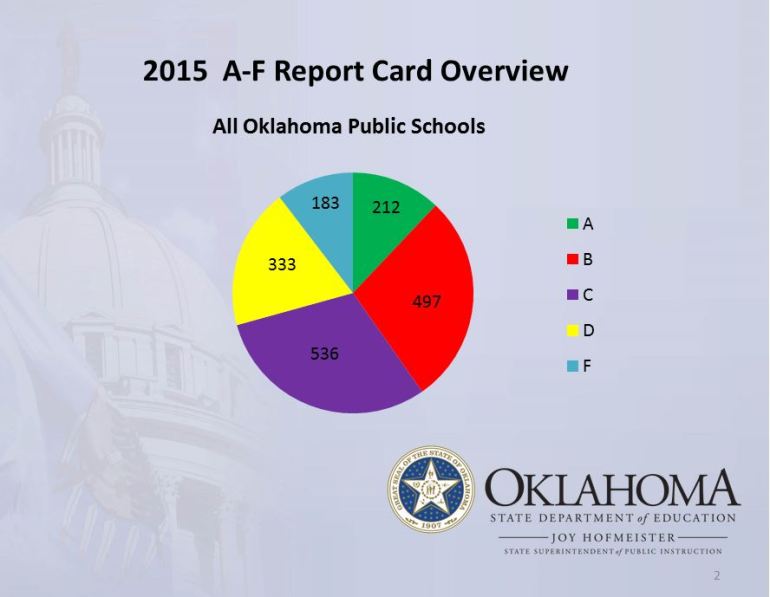 In the Oklahoma City Public School District, Southeast High School, Classen High School of Advanced Studies and Belle Isle Middle School all received an "A" grade.
However, other schools in the district did not fare so well.
Edgemere Elementary, Douglass Middle School and Webster Middle School all received a failing grade.
In Norman, Norman North and Norman High both received a "B+" rating.
In Edmond, all three high schools received "A" status.
Click here to check out your school's ranking.
This is the fourth year our state has used this system to judge schools.
Grades are based on student performance and student growth.
Board members approved releasing the grades on Thursday because they have to by law, but they made it clear they're not happy with the system.
"We did have a reduction in the number of A school sites.  We also had a reduction in the number of F school sites," said Matt Holder, the State Department of Education Chief Operations Officer.
At least one board member questioned whether they should even release the grades if they don't have any confidence in them.
"So we're going to sign up for sending 517 school districts a grade that we're saying don't pay any attention to this because this is wrong?  But here it is," said board member,  Leo Baxter.
Oklahoma State Superintendent of Public Instruction Joy Hofmeister says she is not confident in the current testing system.
"It is not meaningful.  It is not useful.  It is simply confusing," she said.  "You can have a B and still have a 60% graduation rate in your school.  That's not good.  Something's wrong with that picture."
She added that although she doesn't feel like the tests accomplish much, she says they are complying with state and federal law.
"I am committed to a system of accountability that is accurate, reliable and meaningful," Hofmeister said. "In its current form, the A-F Report Cards are too flawed to be useful. I am optimistic that we can have a better system."
"The A-F Report Card is NOT a valid measure of academic performance and it is unfortunate that students, principals and teachers must again be labeled with a letter grade that is derived from a flawed accountability system. The errors in the growth measure formula have been reported and documented by Dr. Curt Adams, senior research scientist at the Oklahoma Center for Education Policy at the University of Oklahoma. The current A-F Report card leaves our schools with an inaccurate look at actual student performance patterns and places a large emphasis on testing in determining a school's letter grade.

In Oklahoma City Public Schools, our belief is testing is just one measure of student performance. Through our strategic plan, 'The Great Commitment,' we are looking at several methods that provide a holistic look at the successes and struggles of our students. The parents, students and staff in Oklahoma City Public Schools have developed and agreed upon community-wide goals, measures and an accountability system that is fair, focuses on the needs of the individual student and holds us accountable. I am optimistic elected leaders and the recently formed task force will address the flaws of the current system and develop an accountability measure the correctly informs our community of the accomplishments and the continued work taking place in our schools," said Rober Neu, the OKCPS superintendent.
In all, there were 212 A's, 497 B's, 536 C's, 333 D's and 183 F's.
Last year, there were 284 A's, 470 B's, 492 C's, 292 D's and 196 F's.
Hofmeister says it costs the state $1 million to compile the data that goes into figuring these grades.
If the state is spending that kind of money, she wants it to be worthwhile.
"We are hard at work to present those recommendations so that we can have an accurate and valid measure that communities don't just dismiss," said Hofmeister.
A law signed in June requires the State Board of Education to submit a report on the current system to the governor and legislature by the end of this year.
Research scientists at OU and OSU are conducting a review and will have recommendations by then.