This is an archived article and the information in the article may be outdated. Please look at the time stamp on the story to see when it was last updated.
OKLAHOMA CITY –  Life is an adventure for Thomas, a curious kid with a silly personality.
This 11-year-old is currently living in a foster home and wants a permanent family to impress.
"I behave really well," Thomas said.
Frontier City is one of his favorite destinations because it is a place where he can be active.
"I cannot do this thing," he says, as he climbs a ladder at the amusement park.
He takes a swing at anything he can get his hands on and even won prizes at several games.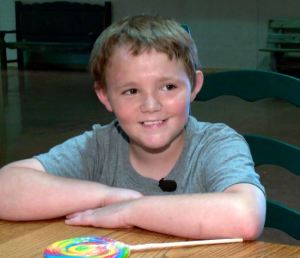 However, it is his softer side that is really on display.
"I was thinking about being in the military so I can save people's lives," he said.
He also has a passion for art and music.
"Well, because I want to learn how to play the guitar so I can be a singer one day," he said.
He is taking lessons now and hopes to get into rock music.
"Oh well, I would say, what's that guy's name? Linkin Park," Thomas said about his favorite band.
Thomas is ready to rock and roll with a new family, who he hopes will be adventurous.
"Doing stuff that's fun like riding bikes, Frontier City, White Water, Play Station sometimes," he said.
Thomas loves hugs and kisses to show his affection and also loves giving gifts.
But he just needs one quality for his future family.
"Yes, I would like for them to be nice," he said. "I love everyone in the world because they're nice, just like my aunt and my grandma."
Thomas says he knows his own characteristics will make him perfect for a family.
"Telling the truth. Not arguing, saying 'Yes ma'am, no ma'am.' 'Yes sir,' 'no sir,'" Thomas said.
He's honest and polite with a heart of gold.
Visit http://www.okdhs.org/ for more information on adopting a child.
If you want to adopt Thomas, call (405) 522-4176.
You will go through a background check and interview process.