This is an archived article and the information in the article may be outdated. Please look at the time stamp on the story to see when it was last updated.
An actress is accusing a photographer of bullying after seeing a "Photoshopped" picture circulate online.
Demi Moore and Bruce Willis' oldest daughter, Rumer Willis, claims photographers digitally altered a photo they took of her and sisters Tallulah and Scout for a recent Vanity Fair shoot, E! News reports.
Rumer recently posted the photo to Instagram, asking everyone to take it down because the photographers "Photoshopped" the picture, giving her a smaller jaw.
The actress says that altering her face is a form of bullying.
https://www.instagram.com/p/BE9Lc9QPhXp/
Any friends of fans of mine who posted this I would appreciate if you took it down. The photographer Photoshopped my face to make my jaw smaller and I find it really offensive for anyone to try and change the way you look so drastically. I love the way I look and I won't support anyone who would feel a need to change the way I look to make me beautiful. Whether or not they realize it, it is a form of bullying, which I won't stand for. 
In the past, Rumer has said she felt self-conscious about her appearance growing up.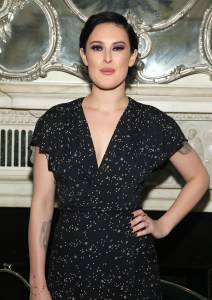 "I was constantly bullied because of my looks, so I struggled a lot with my body image," she explained in an essay for Glamour. "I wanted to have no butt; I wanted to have no boobs. For a long time I just wanted to look tiny and androgynous."
Since then, Rumer says she has grown to love the way she looks and feels more beautiful than she's ever felt.
Vanity Fair responded to the actresses Photoshop claims, saying it was all a big misunderstanding.
"The retouching that was done to the photograph was only done to resolve some distortion with using a wide angle lens for a group shot, and not to alter or modify anyone's face," they told E! News. "We used a wide angle lens, and it might've made Rumer's chin look smaller from the higher angle that we shot the image. We did correct for the optics of the lens slightly as people's heads get distorted through the wide angle lens. We certainly did not intend to change the way she naturally looks. Our intention was to capture the special bond between Rumer and her sisters. It saddens us that Rumer feels the way she does about the image and hope she understands that there was never any intention with it to alter her appearance."