This is an archived article and the information in the article may be outdated. Please look at the time stamp on the story to see when it was last updated.
At first glance, it looks like any other email touting travel deals.
In this case, it was a bus company offering its services to students of the University of Illinois at Urbana-Champaign. It listed several "perks" – fast boarding, no baggage fees and refundable tickets.
But, it was item No. 7 that stunned students and forced the company, Suburban Express, to apologize.
It said: "You won't feel like you're in China when you're on our buses."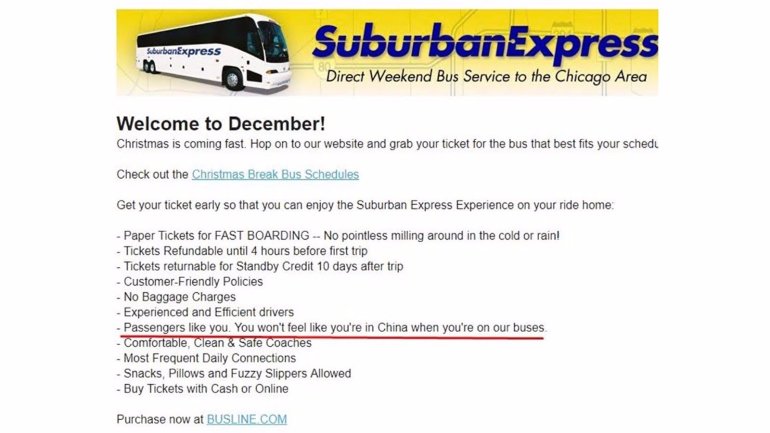 Of the 44,000 students enrolled at the school, as many as 5,900 are from China – about 13 percent.
"These types of racist and bigoted statements attacking any members of our community deserve nothing but condemnation from all of us," the university said in a strongly worded statement.
The bus company runs shuttles from several colleges to the Chicago area.
It sent the ad on Saturday via email to publicize routes it was offering for the winter holidays.
A short time later, Suburban sent a second email it titled "Apology" – but the message didn't sound apologetic.
"You won't feel like you're in China when you're on our buses." This ad stunned Illinois students and forced a bus company to apologize https://t.co/gjL9Nhsu8j pic.twitter.com/iJRTVkQN73

— CNN (@CNN) December 4, 2017
The email said, because the university is a public school, it should be "providing high-quality, affordable education to the citizens of Illinois."
The statement also said the original remark was made "based on the fact that our competitor mostly handles Chinese international students." It didn't name the competitor.
The statement ended with, "In any event, we did not intent to offend half the planet."
The Asian Pacific American Coalition called the emails "dehumanizing and disgusting to our Asian classmates and friends" and stated the group did not accept Suburban Express' "racist non-apology."