This is an archived article and the information in the article may be outdated. Please look at the time stamp on the story to see when it was last updated.
BIXBY, Okla. – An affidavit details more information on the Oklahoma man accused in connection to the explosion at a U.S. Air Force recruiting center.
Around 10:30 p.m. on Monday, officers with the bomb squad were called to an explosion in Bixby.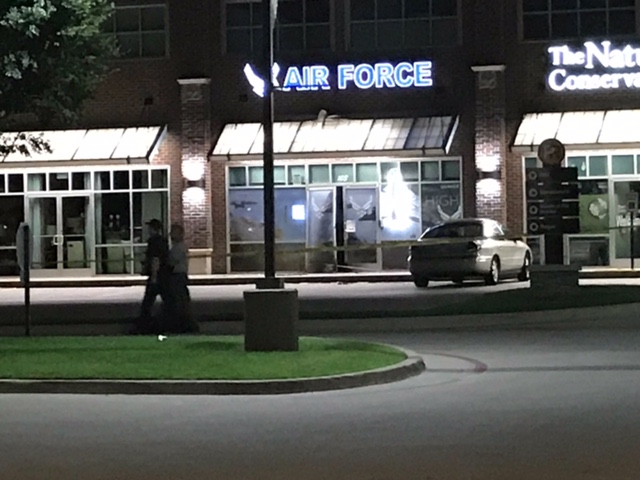 Fortunately, no one was injured since the recruitment center was closed at the time.
FBI officials said a suspect threw what is believed to be a pipe bomb at the office.
Investigators determined the explosive device appeared to have been an improvised explosive device (IED.)
An agent at the scene described the IED as a pipe bomb which was concealed with a military style ammunition can, the affidavit states.
Tuesday afternoon, investigators announced that a person of interest had been taken into custody for the bombing.
Officials identified 28-year-old Benjamin Roden as the person of interest.
He is currently being held in the Tulsa Jail without bond.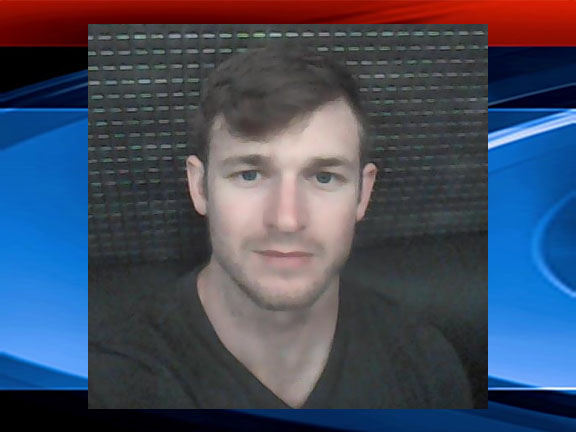 On Wednesday, officials released a probable cause affidavit, detailing more about Roden and why authorities believe he allegedly targeted the recruitment center.
The day of the explosion, two envelopes were sent to the Air National Guard Base in Tulsa which contained documents the Master Sergeant "found to be concerning."
Inside the envelopes, the Master Sergeant found four pages of printed comments which appeared to have come from Roden's Facebook page, the affidavit states.
Someone had mailed the base copies of comments Roden left on a picture on Facebook.
The following comments were attached, according to the affidavit: (The following comments are word for word from the affidavit. Some comments contain grammatical errors.)
Comment #1
"Any country willing to let me come over to you and get a job let me know.  A Special warfare tactic was developed off of what I naturally do and I can teach what I do.  I have knowledge of analog circuits, some electrician knowledge, and natural mechanical and electrical ability.  I think the u.s. Government is trying to keep me from leaving because of my special warfare capability.  They destroyed by passport before leaving active duty and they do not Normally do that.  I have had a lot of problems with them spying on me as well.  They think I am too smart.  I was a firefighter in the airforce and was qualified to drive and operate a t3000 crash truck, a striker 1500, and a fire engine.  I have firefighter 1 and 2.1 also know some about hydraulics and pneumatics.  I am an expert marksman with a rifle.  I have a good fitness level. I have not had a job in 2.5 years so the amount of money offered from an employer just needs to be enough to live."
Comment #2
"Still waiting on a discharge from the bitch air national guard Oklahoma.  By the way your special warefare people suck ass.! hope they enjoyed the sidewall punctures.  I wonder how those nazi bitches ives and keiner are doing over there.  Your people are weak fatasses.  Still waiting for you to do something. Mr noner.  By the way.  I know it is not a real job tomorrow without special warefare. (The last guy had a back injury.) (did the airforce just let you out or what?).  Is legends of zelda nazi bitch still participating? Mrs. I know I had to do it tear tear.  I think what you are doing is murder over there at the air national guard.  Nazi shit.  Those recorders came in handy. Yeah I was spying on you dumbshits."
Comment #3
"The u.s. Government has been using active duty military they call inadequate performers to get prior special forces and other people possibly even citizens their jobs within the government.  They are using special warfare tactics and spying to attempt to drive these so called inadequate performers mentally unstable.  In my case they have also affected my ability to get a job.  In my area these special forces members and citizens have tribes they call the quapaws, creeks, and chitas instead of going by their actual names.  These tribes drive a member unstable that person sometimes dies and no one knows what happened. Also, When these tribes come in many unexplained incidences start to occur."
Comment #4
"The sand springs Oklahoma police have been using something i call special warfare to increase crime in their town to boost their resumes.  Specifically **** *********.  This leads to unnecessary hurt and crime caused in the town and maybe even more deaths.  Special warfare has a severe psychological effect on most people leading to irrational behavior.  Special warfare is meant to get into someones mind and effect their psychological state.  If it is not a crime it should be.  They are saying that it decreases crime in their town.  What it really does is it just creates more of it so they can arrest people to make them look like they are doing their jobs better."
After reading the comments, the Master Sergeant went to Roden's Facebook page and saw he had posted the following status.
"That government vehicle looks beautiful setting outside that office in Tulsa.  That is how I am going to make up for 2 years 7 months without a job and harassment."
The Master Sergeant reported her observations to her commanding officer, who relayed the information to the special agents the day after the explosion.
Investigators then learned that earlier this week, a U.S. Government vehicle assigned to a reserve recruiter was vandalized.
All four tires on the vehicle were slashed and all the windows of the vehicle were broken, the affidavit states.
Roden, a former Senior Airman in the U.S. Air Force and was trained as a firefighter, sought to be trained as an electrician by the U.S. Air Force, court documents state.
However, he resigned when he discovered he could not complete all necessary training required to become a certified electrician.
Roden's last commanding officer before he resigned told authorities Roden was "smart and capable of constructing electronic devices."
His former commanding officer said Roden "hated the military and had received disciplinary actions for his conduct."
He reportedly wanted to quit the Air Force and join the U.S. Marines.
When Roden was not accepted by the U.S. Marines, he allegedly blamed the U.S. Air Force, the affidavit states.
The night of the explosion, a witness reported seeing a white male driving a red motorcycle from the area.
Officials checked Oklahoma Vehicle Registration Records and found Roden owns a red 2015 Honda motorcycle.
According to the affidavit, when authorities went to Roden's apartment, they reportedly found items associated with the manufacturing of explosive devices and two other pipe bombs.
Roden is facing charges for malicious damage to federal property by use of explosive, destruction of federal property and use of explosive to commit federal felony.