This is an archived article and the information in the article may be outdated. Please look at the time stamp on the story to see when it was last updated.
OKLAHOMA CITY – As Oklahoma lawmakers are still trying to find a way to come up with nearly $900 million to cover a budget shortfall, state agencies are bracing for the worst.
Recently, lawmakers asked each state agency to think about how it would handle a nearly 15 percent budget reduction, should it come to that.
The Oklahoma Department of Human Services says the "reduction scenarios at almost every level depicted can be accurately described as ranging from the terrible to the unthinkable."
Officials say those kinds of cuts would cause "reductions to or elimination of entire programs providing critical health and safety services for vulnerable seniors, people with disabilities, and children."
Agency leaders say DHS has been dealt more than $80 million in cuts over the past two years while costs for vital services increase.
As a result, more than 1,200 jobs were cut.
"Because the services we provide are critical to the health and safety of so many vulnerable Oklahomans, we have tried to protect the people we serve from the devastating consequences of significant budget reductions. However, we have reached the point where we can no longer do that- there is nothing of substance left to cut aside from programs and services. The point has come where real people – very vulnerable adults and children – will lose basic and high-skilled services that keep them in their own homes or communities, or worse, lose protections that keep them safe," the agency said in a letter posted to its Facebook page.
If those programs and services are cut, the employee positions and contracts associated with them will likely be eliminated as well.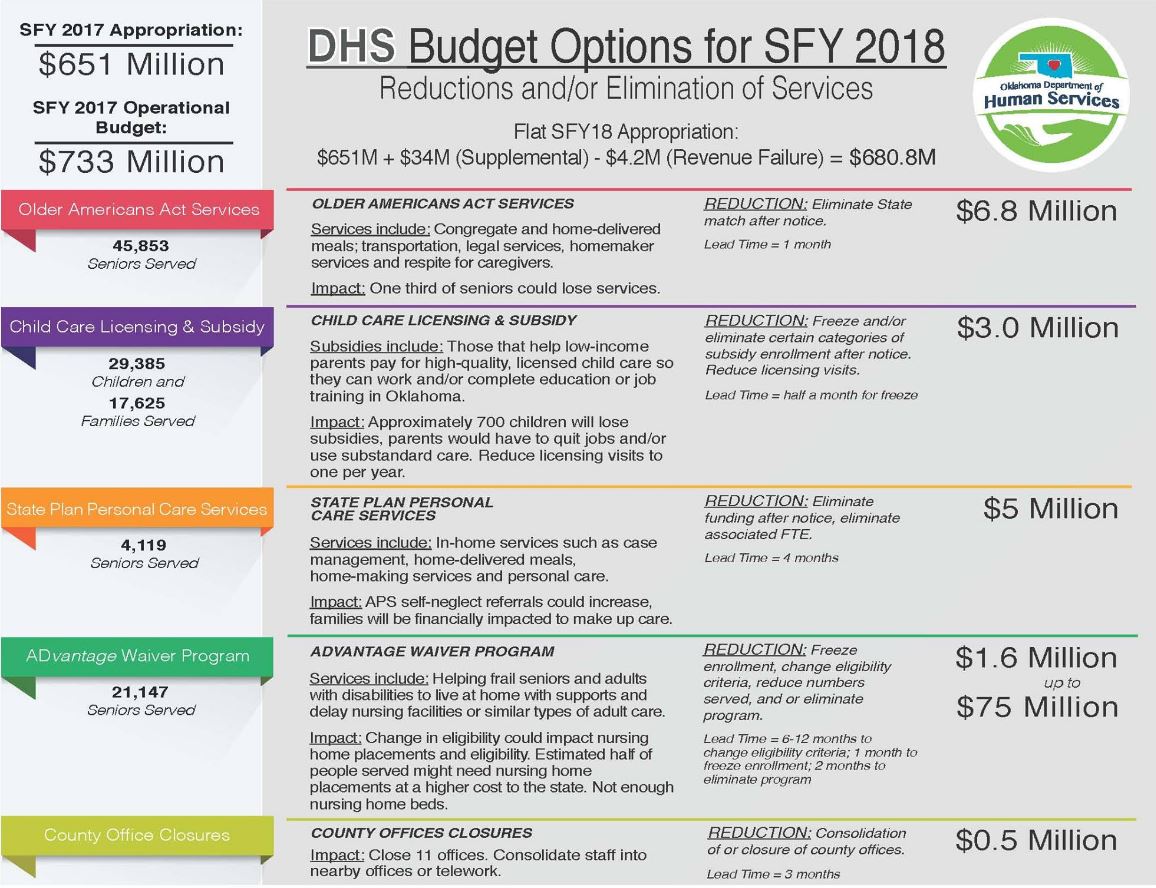 In the past, the department has worked to protect Child Welfare Services from the budget cuts. However, they say that is no longer an option.
This year's potential cuts would "create a placement crisis for foster children, adversely affect the safety of kids, and increase worker caseloads."
"Our circumstances are, in fact, dire, and these fiscal issues must be addressed to prevent the dismantling of critical services," the letter read. "Please know that even developing a list of these options was unconscionable for us as leaders and we all hope the Legislature will find solutions to the budget shortfall and prevent at least some of these catastrophic cuts."