This is an archived article and the information in the article may be outdated. Please look at the time stamp on the story to see when it was last updated.
Palestinian teenager Ahed Tamimi has been freed from an Israeli prison after serving an eight-month prison sentence for slapping a soldier, according to a spokesman for Israel's Prison Authority. Ahed's mother, Nariman Tamimi, was also released.
Early Sunday morning, the two were taken from the HaSharon prison in central Israel to a West Bank border crossing then on to their village of Nabi Saleh and released.
The young activist received a hero's welcome upon returning home. Video from Nabi Saleh showed dozens of her supporters waved Palestinian flags and cheered for Ahed, who turned 17 in prison. As she walked through the crowd, many lined up to hug the teenager.
Flanked by her father and mother, Ahed gave a short statement outside a home in her village, saying, "From our home, the resistance is continuing until the end of the occupation. I thank everyone who supported me during my arrest."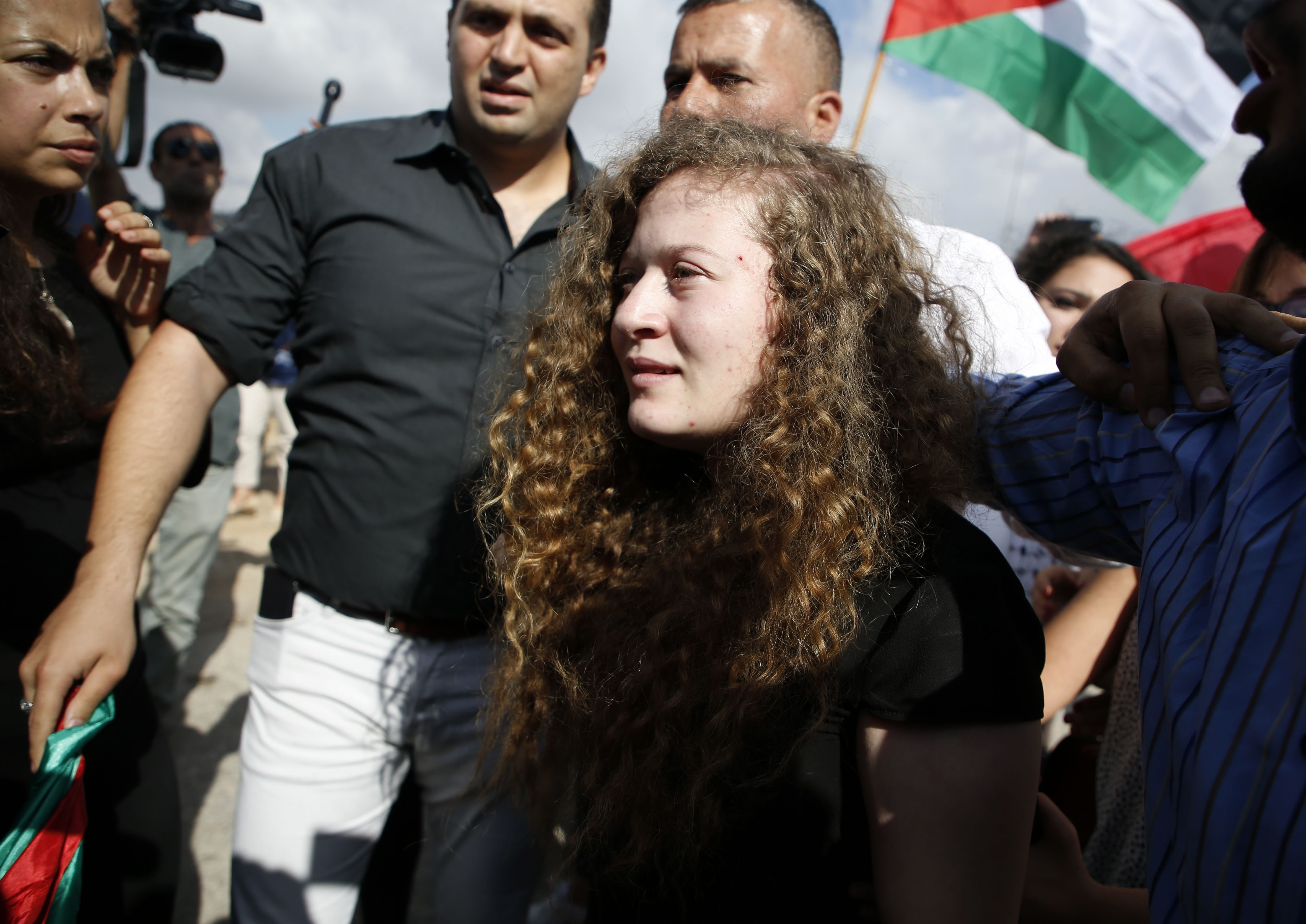 Ahed then left with her family to Ramallah, where she paid her respects at the grave of Palestinian leader Yasser Arafat, according to a family spokeswoman.
While in Ramallah, she met with Palestinian Authority President Mahmoud Abbas at the presidential headquarters, according to official Palestinian news agency Wafa.
Abbas praised Ahed, describing her as "a model of the Palestinian struggle for freedom, independence and statehood," according to Wafa. Abbas also stressed the need for nonviolent resistance as an "ideal and vital weapon in facing the repression of the Israeli occupation."
During the day, Ahed also received a call from Turkish President Recep Tayyip Erdogan, who praised her "bravery and determination," according to Turkey's state-run Anadolu news agency.
Following the visit to Ramallah, she returned to Nabi Saleh to address the media. Ahed promised "our resistance will continue, especially our resistance for equality and human rights."
Ahed, who finished her high school studies while in prison, said she intended to study law at university so she could "bring up the case of the [other] detainees to the entire world and in international courts." Asked if she would slap a soldier again, Ahed said "I can't predict the future. Maybe tomorrow Palestine might be free, and I can't define what'll happen in the future. I hope that the occupation goes away so that I don't think about doing this again."
"I've never lived under peace," Ahed said. "This is why I see peace as something important."
In a statement sent via text message to CNN, Ahed's lawyer, Gabi Lasky, an Israeli attorney who often represents Palestinian defendants, said, "After 8 months, it's clear that Ahed's arrest and punishment had more to do with politics rather than legal issues. Ahed's trial heightened the folly of the occupation. Arrests of minors in the military court are not the right tool to end the Israeli-Palestinian conflict. I hope our leaders will be courageous enough to reach an agreement and free us all from the chains of occupation."
Ahed was arrested on December 19 after a video showed her slapping and kicking an Israeli soldier in Nabi Saleh. The video, shot by members of her family during weekly protests, shows the soldier pushing her away.
The incident, which happened on December 15, occurred shortly after a soldier gravely wounded her 15-year-old cousin nearby by shooting him in the head with a rubber bullet.
Her mother was arrested one day later on suspicion of incitement when she went to inquire about her daughter in jail.
At the time, Israeli Defense Minister Avigdor Liberman said, "Whoever goes wild during the day, will be arrested at night. Not only the girls and the parents but others around will not escape punishment." Israeli officials have not commented since her release.
In March, Ahed agreed to plead guilty to four charges, including disrupting a soldier and incitement, in exchange for an eight-month prison sentence. Eight of the 12 charges against her were dropped.
Ahed 's mother pled guilty to charges of incitement and disrupting a soldier.
Ahed rocketed to fame in 2012 when a video of her holding up her fist to an Israeli soldier went viral. Since then, her fame has only increased.
She has become a hero to many Palestinians, who see her as standing up to the Israeli occupation of the West Bank.
On Saturday evening, Israeli police arrested three people – two Italians and a Palestinian – who were painting a large mural of Ahed on the separation barrier near Bethlehem in preparation for the teen's release.
One of the Italians, Agostino Chirwin, is famous for creating giant realistic murals of politicians, activists and other figures. On his Instagram page under the name 'joritagoch,' he posted a picture of a border police car with a message: "We are in arrest in [Bethlehem] from Israeli army. Who can help us please do it."
Ahed's case has become a lightning rod for criticism of the Israeli military, the military court system and its treatment of Palestinian youth.
"Israel's jailing of a child for eight months – for calling for protests and slapping a soldier – reflects the discrimination, complete absence of due process and ill-treatment of children endemic in Israel's military justice system. Ahed Tamimi is now free, but hundreds of Palestinian children remain locked up with little attention on their cases," said Omar Shakir, Israel and Palestine director at Human Rights Watch.