This is an archived article and the information in the article may be outdated. Please look at the time stamp on the story to see when it was last updated.
YUKON, Okla. – Three men are behind bars after they were allegedly caught trying to steal copper.
Deputies with the Canadian County Sheriff's Office were called to the AT&T communication facility, near N.W. 10th St. and Banner Rd. Saturday evening, after getting a call about suspicious activity near the building.
The caller told dispatchers that he had seen three men on the property and told them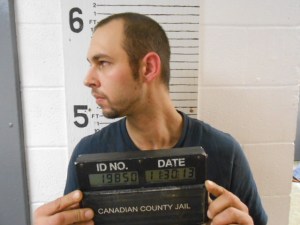 that he would be calling the police.
When officers arrived, they learned the suspects had cut the chain link fence to get onto the property.
While the men were not at the scene, deputies caught up to them on I-40.
Officials say the men could be seen throwing items from their vehicle while they attempted to get away.
Authorities say a deputy collected the items, which included small plastic baggies and broken crack pipes.
They arrested 29-year-old Darrel Quirk, 23-year-old Nicholas Taylor and 27-year-old Brandon Heintzelman.
Authorities say the men were trying to load several spools of copper wire onto a trailer
when they were disrupted by the citizen who called police.
Officials say that while the men denied that they were going to load the spools onto the trailer, they said they wanted to get as much wire as possible.
Randall Edwards, the Canadian County sheriff, said, "My deputies obtained a confession that the burglary had been planned by pre-cutting the fence so they could drive right in, load up and make a quick get-away. Fortunately, their plan was spoiled by an alert citizen who was willing to get involved."
In addition to burglary charges, deputies discovered marijuana in Taylor's shoe.
Also, Quirk had an outstanding warrant from Pottawatomie County for falsely impersonating another person.
Heintzelman is charged with burglary and breaking and entering, along with breaking and entering to steal copper.
Taylor is charged with possession of a controlled dangerous substance.
Quirk was sent to Pottawatomie County to face charges related to the outstanding warrant.