This is an archived article and the information in the article may be outdated. Please look at the time stamp on the story to see when it was last updated.
YUKON, Okla. – Authorities say an alleged drug dealer was arrested after marijuana was delivered to his home.
William Garbe, 30, was arrested Friday, Nov. 20, after a nearly eight pound package containing high-grade, California grown marijuana was delivered to his residence in Yukon, Canadian County investigators say.
Authorities were alerted to the package by a postal inspector with the United States Postal Service.
Investigators say the package was pulled from the line at the US Mail Processing and Distribution Center in Oklahoma City after workers detected an extremely strong odor of marijuana coming from the package.
A drug sniffing canine was requested and made a positive alert to the presence of illegal drugs inside the package.
Authorities then obtained a search warrant for address listed on the package.
On Friday, Nov. 20, the package was delivered and accepted by an adult female living in the home.
About 45 minutes later, investigators executed the search warrant for the home and found the package.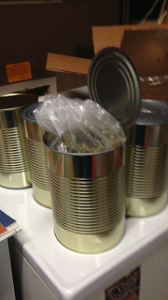 The package contained approximately $100,000 worth of marijuana.
Investigators believe Garbe is the middle-man for a larger illegal distribution operation.
"My investigators determined Garbe is the first step in a drug smuggling ring operating in the Oklahoma City area," said Randall R. Edwards, Canadian County Sheriff.  "He takes possession of the drugs, and then delivers them to the street level drug dealer," said Randall R. Edwards, Canadian County Sheriff.
He was taken into custody and booked into the Canadian County Jail for possession with intent to distribute marijuana.
He has since posted bond.
A child who was also inside the home at the time of the arrest is now in Department of Human Services custody.
Investigators have filed for an arrest warrant for the woman who signed for the package.
Local law enforcement is working with California authorities to apprehend suspects in California.