This is an archived article and the information in the article may be outdated. Please look at the time stamp on the story to see when it was last updated.
OKLAHOMA CITY – The Oklahoma Bureau of Narcotics cracked down on an alleged prostitution ring in Oklahoma City Wednesday, resulting in nine arrests, a spokesperson said.
It's not the agency's usual focus but they're involved because of a growing trend in these crimes, human trafficking.
The investigation is ongoing, so OBN is not saying how many prostitutes were busted or where in Oklahoma City the sting happened.
But we're told the suspects were arrested for allegedly offering to engage in an act of prostitution.
"They're the ones that showed up at a location and made an offer for payment in exchange for services" OBN Spokesperson Mark Woodward said. "People from all walks of life get caught up in this type of lifestyle and that's very concerning for us."
OBN is the agency that investigates human trafficking, the crime of forcing people into sexual slavery, but they have yet to identify any human trafficking victims from Wednesday's sting.
The agency often gets information on the crime when an officer arrests someone for drug possession.
"(The officer) finds out that they're a prostitute and they start giving up information that says, 'Well, I'm forced into this and I can lead you to the people that are forcing me and threatening me and my family,'" Woodward said.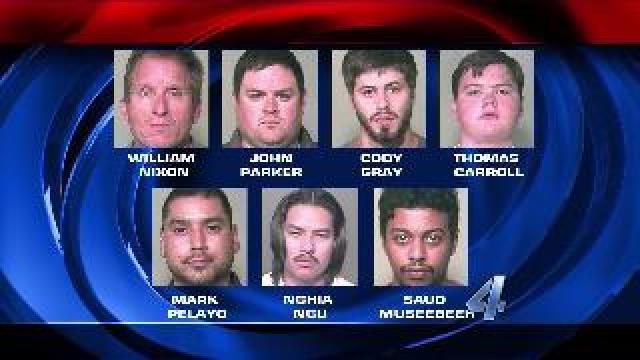 Some human trafficking involves prostitutes as young as 13 or even 12 years old.
Woodward said many victims are runaways who get involved with the wrong crowd.
Some have no idea that their seemingly innocent relationship eventually traps them into human trafficking.
"They're sleeping on the streets and somebody says 'Hey, I can provide you a place to stay, put you up in a hotel, provide you food,' and it sounds too good to be true," Woodward said. "And it really is because pretty soon, the guy is going to want payment for it. Well, the girl doesn't have any payment, so she has to work if off and so a lot of them are forced into that type of lifestyle."
Woodward said for some customers, a 13-year-old prostitute is too old.
They search for children on the internet and travel around the world to have sex with young children.
Woodward said drug cartel suspects have said they now make more money from human trafficking than from drug trafficking.
Just two weeks ago, OBN was involved in a sting in southern Oklahoma that involved 13 arrests.
Woodward said two of the prostitutes were forced into the crime.