This is an archived article and the information in the article may be outdated. Please look at the time stamp on the story to see when it was last updated.
MOORE, Okla.- A rogue alligator was taken into custody in Moore.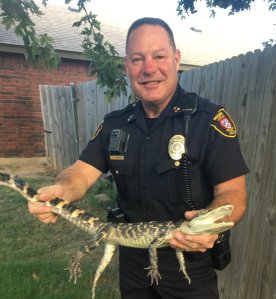 Yes, it is real.
MSgt. Snavely and Sgt. Hernandez responded to the 1100 block of SW 20th in reference to an alligator at large.
Someone had placed a plastic basket on it before officers arrived.
They did get there and needed to get the animal in a more secure situation.
Luckily it was a baby!
MSgt. Snavely was able to find and capture and secure it before Animal Control was on the scene.
As to where it came from, that is still an unanswered question.