This is an archived article and the information in the article may be outdated. Please look at the time stamp on the story to see when it was last updated.
UPDATE: 3:30 pm Oct 25th
-- The Altus Airman has been charged with possession of a simulated bomb and bomb-making material. The DA for Jackson County filed charges on AFB Airman Timothy Francis Carey. The DA says he had the bomb materials with the intent to either intimidate or harm another person or to do damage to property.
The felony charges carries a maximum punishment of 10 years in prison and a fine of $10,000.
Bond was set at $50,000 and he is set to appear in court October 31 in Jackson County District Court.
Search warrants at his home and at a storage unit in his name produced materials that could be used to manufacture of a bomb or incendiary device. No bomb was located, but a piece of PVC pipe that resembled a common pipe bomb was confiscated, along with other components and materials that could be used to make a bomb.
ALTUS, Okla. -- Investigators said they believe they prevented a major tragedy when they found bomb-making materials at an Altus Airmen's home.
Officials said 26-year-old Senior Airman Timothy Carey was arrested during a raid.
Altus military authorities said they found more materials in a storage unit he was renting.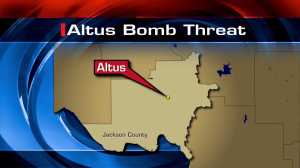 The Air Force said it received tips from witnesses claiming Carey made comments about having explosive devices at his home.
Authorities said he talked about a plan to use the devices at Walmart.
He was allegedly plotting to tie up law enforcement officers and then use more explosives elsewhere.
Carry is being held without bond at the Jackson County jail.