This is an archived article and the information in the article may be outdated. Please look at the time stamp on the story to see when it was last updated.
CLEVELAND COUNTY, Okla. - An Amber Alert has been issued for a Cleveland County child.
Officials are looking for 1 1/2 year old Bracie Schivers.
On Friday around 5 p.m., a judge in Cleveland County removed the parental rights from Bracie's parents due to evidence of child endangerment.
When Cleveland County deputies went to take custody of Bracie, she and her parents were gone.
Authorities say the parents, Tara Springfield and Bryant Schivers Jr., both 37, took Bracie and have been unable to find them.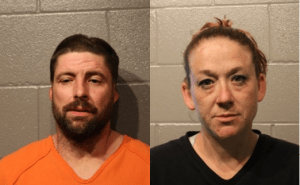 Tara Springfield is around 5' 6" with hazel eyes, weighing around 140 pounds.
Schivers is around 5' 10" with brown eyes, weighing around 185 pounds.
Springfield and Schivers are known to be heavy substance abusers.
Deputies believe Bracie is in immediate danger or death.
They are believed to be driving a white 2011 Chevrolet C 15 pickup with the Oklahoma tag: BQQ-657.
Officials are asking the public to also be on the lookout for three additional children authorities believe are with the suspects.
Bryant Schivers Jr. - age 12
Bailey Schivers - age 9
Braddock Schivers - age 8
An arrest warrant was issued for Schivers Saturday afternoon on a charge of kidnapping.
There is no clothing description for any of the children or the suspects.
If you see any of the children, Springfield or Schivers, call 911 immediately.