This is an archived article and the information in the article may be outdated. Please look at the time stamp on the story to see when it was last updated.
[protected-iframe id="2fcf6512ab27110a293ab5399c05e15d-29519643-62065474″ info="https://cdnapisec.kaltura.com/p/2031081/sp/203108100/embedIframeJs/uiconf_id/36217061/partner_id/2031081?iframeembed=true&playerId=media-preview_0_0_7nmqz6x8&entry_id=0_7nmqz6x8&flashvars=auto" width="640″ height="395″ frameborder="0″ webkitallowfullscreen="" mozallowfullscreen="" allowfullscreen=""]
HOUSTON – Authorities have issued an Amber Alert for an infant girl in Houston who was reported missing after her mother was found fatally stabbed.
Houston police began searching for 6-week-old Shanally Flores after officers found her mother's body in her north Houston apartment around noon on Tuesday.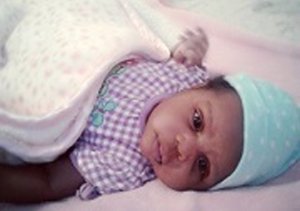 Police had initially believed the infant girl was with her father, Thomas Bernardez, who is considered by investigators as a possible suspect in the death of Shanally's mother.
However, late Tuesday, police said Bernardez and his car had been located in San Antonio but the infant girl was still missing.
UPDATE: The baby's father was just located in San Antonio and stated he was not involved in the murder at 185 Goodson. The baby girl, 6 weeks old (not 11 mos) has not been found yet. Please call @CrimeStopHOU with any info on her whereabouts. #hounews https://t.co/UbaSRy9W63

— Houston Police (@houstonpolice) December 20, 2017
Houston police say Bernardez has claimed that he was not involved in the murder.
Houston police did not immediately release the name of Shanally's mother.
However, family members have identified her to local media as Carolina Flores.
[protected-iframe id="756e2e87a3dee6d06fe8aa03ab82ad69-29519643-62065474″ info="http://interactive.tegna-media.com/video/embed/embed.html?id=2843028&type=video&title=Search continues for kidnapped baby after mom is killed&site=285&playerid=6918249996581&dfpid=32805352&dfpposition=embed_preroll§ion=home" width="640″ height="360″ style="border-width:0″]