This is an archived article and the information in the article may be outdated. Please look at the time stamp on the story to see when it was last updated.
HAMMOND, Ind. – Authorities in Indiana have issued an Amber Alert for a 2-month-old infant who was abducted.
The Hammond Police Department says 2-month-old Raphael Bevineau and 20-year-old Yolanda Walker were abducted by the baby's non-custodial father.
Indiana State Police say the pair were last seen around 7 p.m. on Sunday and are believed to be in extreme danger.
They may be with Raphael's non-custodial father, Ralph Bevineau. He may be driving a gold Chevy Trailblazer or a similar type SUV.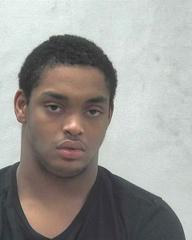 Walker is described as a black woman, standing 5'4″ tall with brown hair and hazel eyes. She was last seen wearing a white t-shirt and Grinch pajama pants.
She also has a birthmark under one eye.
If you have any information on Bevineau or Walker, contact the Hammond Police Department at 1-888-58AMBER (582-6237) or call 911.