This is an archived article and the information in the article may be outdated. Please look at the time stamp on the story to see when it was last updated.
NORMAN, Okla. – The Norman Police Department has issued an Amber Alert for a missing and endangered infant.
On Tuesday, police announced they were searching for 7-month-old Jody Minjarez, who they believe is endangered.
However, authorities have now said the case qualifies as an Amber Alert.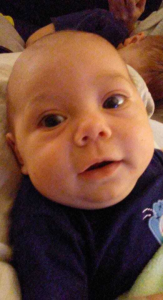 On February 19, Norman police responded to a report of a domestic assault in the 1500 block of Lakecrest Drive.
Officers determined 31-year-old Victor Manuel Minjarez violently attacked the mother of his child and then fled the residence with their son, Jody Minjarez.
On February 23, the victim, the child's mother, obtained an emergency Victim Protective Order (VPO) that ordered Jody to be returned to her.
Victor Minjarez has since sent a text message to a friend telling her to tell the victim she would never see her son again.
Because of this, police believe Jody Minjarez is in imminent danger of bodily harm or death.
Victor Minjarez fled the scene of the incident with the child driving a rented U-Haul pick-up truck with an unknown license plate.
Police believe he is now driving a light blue BMW four-door sedan or a white 2008 Cadillac Escalade, with the Oklahoma license plate 128KNQ.
He is homeless, and it is unknown where he is currently staying. However, investigators believe he is likely in the Oklahoma City metro, possibly staying at a motel or with a friend.
He is described as a 31-year-old Latino male with black hair and brown eyes. He is 5 feet 6 inches tall and weighs 180 pounds.
Anyone with information regarding the whereabouts of 7-month-old Jody Minjarez or 31-year-old Victor Minjarez are asked to immediately call 911 or the Norman Police Department at 405-321-1444.