This is an archived article and the information in the article may be outdated. Please look at the time stamp on the story to see when it was last updated.
OKLAHOMA CITY –  A fire broke out at Muntage Apartments just after 4 a.m. in NW Oklahoma City Saturday morning.
Fire crews were called to the 3000 block of N.W. 41st Street after reports of heavy black smoke was reported coming from one of the units.
Two people were rescued from the second-story by ladders.
Two out of eight units were completely destroyed by smoke and water damage.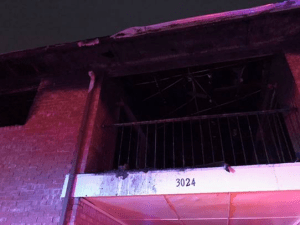 No injuries were reported.
A damage estimate is still being determined.
The cause of the fire is under investigation.