This is an archived article and the information in the article may be outdated. Please look at the time stamp on the story to see when it was last updated.
OKLAHOMA CITY – Fire crews are on scene at an apartment fire at NW 122nd and Rockwell.
When firefighters arrived they saw flames coming from a balcony and also reaching up to an attic.
Because of the size of the apartments it took them several minutes to get the fire under control, but it is now under control.
No injuries to any firefighters.
One person asked to be checked out by EMSA for a minor smoke related injury, but did not want to be transported to a hospital.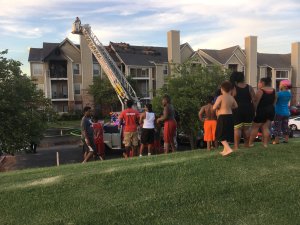 The cause of the fire is still under investigation. There is no damage estimate at this time.
We will keep you updated.