This is an archived article and the information in the article may be outdated. Please look at the time stamp on the story to see when it was last updated.
Four members of an Ohio family have been arrested in connection with the 2016 killings of eight members of a separate family, authorities said Tuesday, opening a new chapter in a massacre that stunned a rural southern Ohio community.
George "Billy" Wagner III, 47; Angela Wagner, 48; George Wagner IV, 27; and Edward "Jake" Wagner, 26, were arrested Tuesday and "are charged with planning and carrying out" the killings of eight members of the Rhoden family, Ohio State Attorney General Mike DeWine's office said in a news release.
The Wagners are from South Webster, about a 30-mile drive southeast of Piketon, the community in and around where the killings happened.
Details about what led authorities to arrest the four weren't immediately available. A news conference is scheduled to take place at the Pike County Sheriff's Office late Tuesday afternoon.
The eight victims — who ranged in age from 16 to 44 — were found shot to death at four crime scenes in and around the small town of Piketon in April 2016.
At one of four crime scenes, police found a 4-day-old baby lying next to his mother, who was one of the slain victims. That child, along with a 6-month-old and a 3-year-old, survived the killings.
Those who died included Kenneth Rhoden, 44; his brother Christopher Rhoden Sr., 40; and Christopher's ex-wife Dana Rhoden, 37. Also killed were three of the Rhodens' children, Clarence "Frankie" Rhoden, 20, Christopher Rhoden Jr., 16, and Hanna May Rhoden, 19. Other victims were Hannah Gilley, 20, who was engaged to Clarence "Frankie" Rhoden, and Gary Rhoden, 38, a cousin.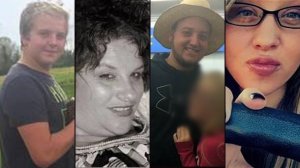 Piketon is a town of about 2,000 residents, 90 miles east of Cincinnati.