This is an archived article and the information in the article may be outdated. Please look at the time stamp on the story to see when it was last updated.
TULSA, Okla. – One day after the Tulsa Police Department released video of a police officer shooting an unarmed man to death, his family's attorneys are speaking out on the misinformation coming from the police department.
From different angles, the videos show the same scene.
An unarmed black man walks on a road with his hands in the air. Police officers follow closely behind him. He falls to the ground after one officer pulls the trigger.
Now 40-year-old Terence Crutcher is dead. Crutcher's sister is demanding that prosecutors charge the officer who shot him. And the police videos of the incident are fueling mounting criticism online about the case.
Federal, state and local authorities are investigating the shooting, which occurred Friday night in Tulsa, Oklahoma.
Crutcher's family says he was waiting for help on the road after his SUV broke down.
The officer's attorney says she was afraid Crutcher was reaching for a weapon when she opened fire.
911 call reported man running from vehicle
Two 911 calls brought officers to the scene around 7:30 p.m. Friday.
The first came from a woman who said an abandoned vehicle was blocking the street and a man was running away, warning that it was going to blow up.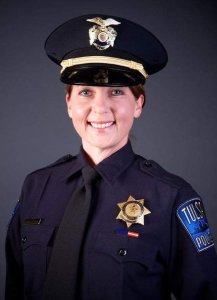 "Somebody left their vehicle running in the middle of the street with their doors wide open," the caller said. "The doors are open, the vehicle is still running. It's an SUV. It's in the middle of the street, it's blocking traffic."
Officer Betty Shelby, who is white, was the first to arrive. Crutcher was on the side of the road, away from his vehicle. He then approached the officer, police said.
Shelby soon told dispatchers that Crutcher wasn't cooperating, according to Tulsa's police chief, who declined to provide further details.
'Very disturbing' video
Videos police released on Monday show some of what happened next. The footage is "very disturbing and difficult to watch," Tulsa Police Chief Chuck Jordan told reporters.
The videos show Shelby and several other officers at the scene.
By the time Crutcher raised his hands, Tulsa Police officers were also flying above the scene in a helicopter, capturing the incident from an on-board camera. Footage from multiple police cameras show Crutcher walking toward his SUV in the middle of the road, hands raised, followed closely by Shelby and three other officers. They surround Crutcher, who continued to walk back to his car, where he appeared to place his hands toward the vehicle.
Circling above the scene, one police officer in the helicopter can be heard referring to Crutcher as a "bad dude," according to audio from police footage.
Jeanne MacKenzie, Tulsa Police public information officer, said that the responding officers on the ground thought Crutcher had reached his hands into the driver's side window of the vehicle.
Moments later, as Crutcher stands beside his car, the video shows him fall to the ground.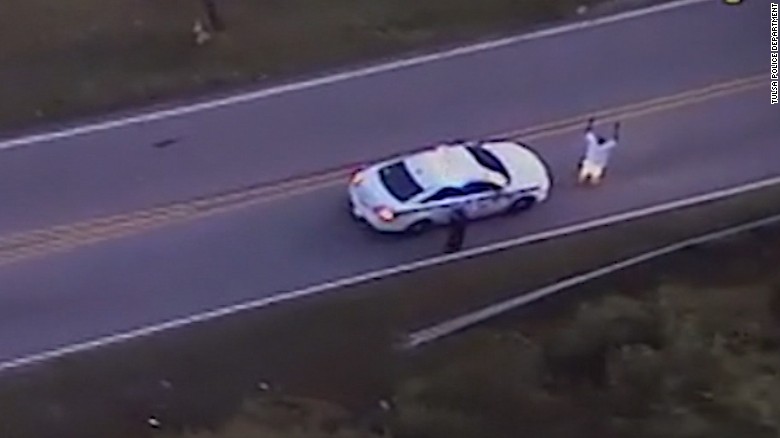 "I think he may have just been Tasered," an officer says over the radio.
"Shots fired!" a female officer says.
In the video, Crutcher lies in the middle of the street, motionless, soon to be dead.
Attorneys speak on misinformation coming from police department
Although the Tulsa Police public information officer claims officers on the ground thought Crutcher had reached his hands into the driver's side window of the vehicle, video of the shooting shows that isn't the case.
Attorney Benjamin Crump said he wants to clear up the misinformation that the police department has released.
"We thought it was important to address this misinformation that was put out for public consumption," Crump said at a press conference Tuesday.
At the press conference, Crump said it is not possible that Crutcher could have been reaching inside of his car's window.
The attorney showed an enlarged image from the police helicopter video, showing that Crutcher's window was actually rolled up, meaning he couldn't have been seen reaching into his vehicle.
"How could he be reaching into the car if the window is up and there is blood on the glass?" Crump asked at the press conference.
Sister slams officer's 'negligence and incompetency'
At a news conference Monday, Tiffany Crutcher said she believes her twin brother Terence died because of a Tulsa Police officer's "negligence and incompetency and insensitivity."
Just a month ago, she said, the twins had celebrated their 40th birthday. Terence, a God-loving father who sang at church every week, had enrolled at a community college in Tulsa, where he hoped to earn a degree.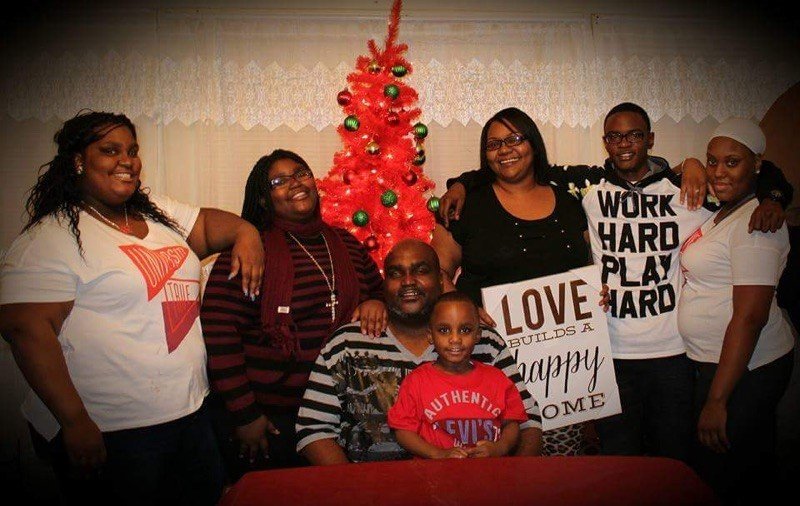 "I'm going to show you," Terence recently texted his sister. "I'm going to make you all proud."
Now, she said, charges should be pressed to ensure justice is served. According to his sister, that's the least that should happen given Crutcher won't be able to make his family proud like he hoped to do.
"And because he was a big bad dude," she said referring back to the police helicopter tape, "he'll never get that chance."
Officer's attorney: There's more to the story
Scott Wood, an attorney representing Shelby, says people should reserve judgment until all the facts about the case come out. There's more to the story, he says, than the videos show.
Before the cameras started rolling, Wood says, Shelby sensed that something seemed off about Crutcher.
"He had a very hollow look in his face, kind of a thousand-yard stare, so to speak, and would not communicate. And she could tell he was not normal. She thought that when she saw him," he said.
She had yelled repeatedly that he should get down and stop walking, Wood said.
But Crutcher kept going, placing his hands in his pockets, where she feared there could be a weapon, Wood said.
However, video shows Crutcher had his hands up in the air.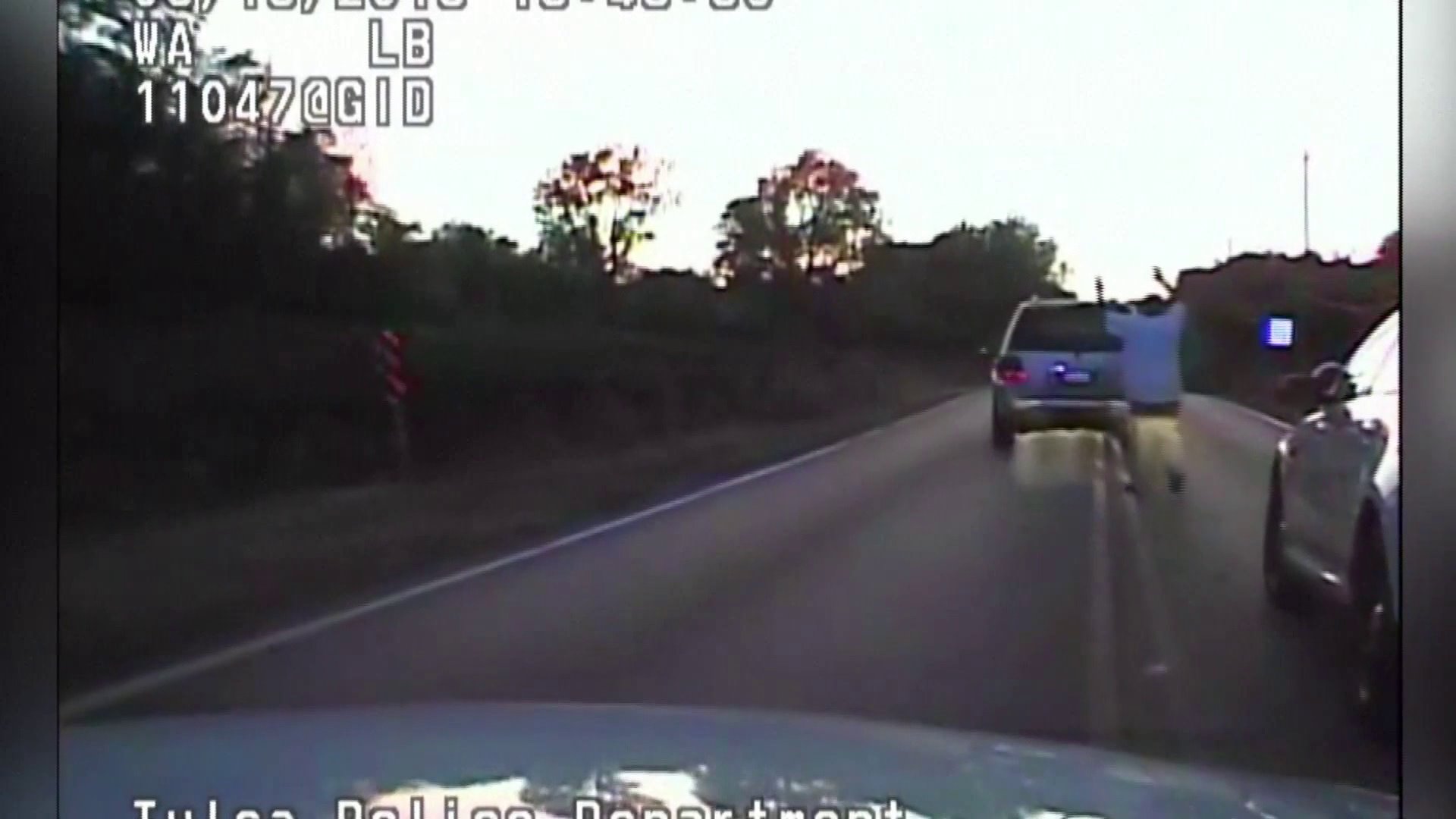 And when the officer opened fire, according to her attorney, she thought Crutcher was retrieving a weapon from his car.
However, Crutcher's family's attorney said a news conference Tuesday that this would not have been possible.  Video from the scene shows the window was rolled up.
Wood insists this incident has nothing to do with race.
He said Shelby suspected Crutcher was under the influence.
"People who are under the influence have unpredictable behavior, whether you are white, Hispanic, or black," he said.
Crutcher's legal team said that even if that were true, shooting a man to death for being on drugs is not a justified response.
The victim's family's attorneys emphasized Crutcher was not belligerent at the time of the shooting.
"At that particular moment he was shot, he was not a suspect for any crime, period," attorney Damario Solomon-Simmons said.
'There was no gun'
At a news conference Monday, the police chief told reporters that Crutcher was unarmed.
"I'm going to tell you right here now: There was no gun on the suspect or in the suspect's vehicle," he said.
He also confirmed that Shelby had fired one shot and Officer Tyler Turnbough had deployed his Taser.
Shelby is now on paid administrative leave, pending the outcome of a criminal investigation. The officer joined the police force in 2011 and had worked for the county sheriff's department for four years before that, according to her attorney, who described her record as a clean one.
In addition, both the US Department of Justice and state authorities have launched investigations into the officer-involved shooting.
Danny C. Williams, US Attorney of the Northern District of Oklahoma, said prosecutors will attempt to determine whether a federal civil rights violation had occurred. Authorities refused to immediately answer additional questions due to the ongoing investigation.
Jack Henderson, a Tulsa council member, said that authorities would get to the bottom of what happened Friday night. In the meantime, Henderson called for Tulsa "to remain a strong city, a together city" free of the violence and conflict seen in other cities across the US.
"We've already got two families' lives who will be affected forever," Henderson said. "We don't need some more lives to be changed this way."
'Devastated'
Outside the Tulsa County Courthouse, approximately two-dozen protesters held signs and photos of Crutcher, shouting chants such as "hands up, don't shoot!" As they walked around downtown Tulsa, they demanded further transparency as well as improved training for local police.
Pastor Mario Johnson, who said he watched the dashcam video before it was made public, believes Crutcher did not deserve to die.
"Him having his hands up, walking toward his car, he was walking away from the officers. He wasn't posing a threat in any way," Johnson said.
According to a Crutcher family attorney, Terence was just "having some difficulty with his vehicle and that's it."