This is an archived article and the information in the article may be outdated. Please look at the time stamp on the story to see when it was last updated.
OKLAHOMA CITY – An audit released Thursday revealed the Oklahoma State Department of Health (OSDH) mismanaged money and the layoff of nearly 200 people was unnecessary.
Officials say the agency did not need the $30 million emergency supplemental appropriation, and that the termination of employees is questionable.
"This report identifies numerous issues at the Health Department regarding its internal accounting processes and procedures," said Oklahoma State Auditor Gary Jones. "Among our findings is that the agency did not need the $30 million emergency supplemental appropriation it received last November. And, we question the need to terminate 198 employees."
Oklahoma Attorney General Mike Hunter says consequences of the mismanagement included unnecessary layoffs and the disruption of essential services in communities across the state.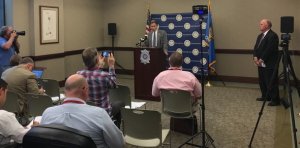 "The $30 million dollar emergency supplemental appropriation was unnecessary and still sits untouched in an account at the Department of Health," said Hunter at a press conference Thursday afternoon. "Perhaps the most devastating and disgraceful determination was that 198 Oklahomans lost their jobs for no reason, leaving other Oklahomans throughout the state without essential services that the Department of Health is expected and required to provide."
The report identifies that OSDH annual expenditures did exceed its revenue of many years, and that "internal confusion tied to its unorthodox accounting practices along with a hostile work environment originating with senior management created the misperception the agency desperately needed an infusion of $30 million."
"The agency had money all along to make payroll. The red flags, which were waved by senior management, were completely inconsistent with the financial situation at the Department of Health," said Hunter.
"Agency officials first reported to us, and later to a House panel, that it was facing a multi-million dollar shortfall," Jones said. "The agency's history of 'borrows' and other practices only made its confusing system of accounting even more out of balance. I commend the job and professionalism of our auditors in being able to work through these complex issues to sort out what was real and to provide recommendations to help put OSDH on a path to fiscal integrity."
The report also points to the State Board of Health for not properly exercising its fiduciary responsibility. The report noted the Board's "failure to appropriately communicate with key financial personnel or require sufficient and appropriate financial information to perform their duties clearly contributed to the overall situation (at the agency)."
"Though these findings were reprehensible, no state or federal money was embezzled or stolen. And a paraphrase from the grand jury report – while financial mismanagement, fictitious fiscal reporting and reckless overspending abounded at the department, no criminally prosecutable conduct was identified by the grand jury,'" said Hunter.