This is an archived article and the information in the article may be outdated. Please look at the time stamp on the story to see when it was last updated.
OKLAHOMA CITY – A very successful author is making his way into the metro to sign copies of his new novel.
Craig Johnson, author of the hugely successful Longmire novels and the acclaimed A&E drama based on his stories, will be reading and signing copies of his new novel, "Any Other Name", at 7 p.m. May 19th at Full Circle Books at 50 Penn Place.
Riding the critical and ratings success wave of season two of A&E-TV series Longmire, Craig Johnson saddles up for the summer 2014 publication of his tenth Sheriff Walt Longmire mystery, Any Other Name.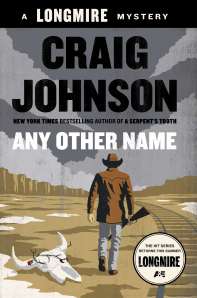 With publication timed with the airing of season three of Longmire, this time Walt strays from his own terrain to unearth threatening secrets buried in a neighboring county.
Craig Johnson is the New York Times bestselling author of the Walt Longmire mystery series. Johnson's series is the basis for Longmire, the hit A&E-TV original drama.
He is the recipient of the Wyoming Historical Award for fiction, the Western Writers of America Spur Award for fiction, the Mountains and Plains Booksellers Award for fiction, the Rocky Award from Left Coast Crime, the Nouvel Observateur Prix du Roman Noir, and the Prix 813. Spirit of Steamboat was selected by the Wyoming Library Association as the "One Book Wyoming" for fall 2013. He lives in Ucross, Wyoming, population twenty-five.