This is an archived article and the information in the article may be outdated. Please look at the time stamp on the story to see when it was last updated.
OKLAHOMA CITY - Authorities have identified the man who died in police custody earlier this week.
Around 8:15 a.m. Wednesday, police received multiple reports about a black male who was "acting strangely and causing a disturbance" near N.W. 46th and Western.
Witnesses reportedly told police they believed the man may have been high on drugs.
Police say when officers arrived on scene, they noticed the man was armed with a pair of scissors.
The man allegedly made a threatening gesture toward the officers, officials say.
That is when police say one officer tased the man.
"The suspect fell on the ground and began to stab himself," Capt. Paco Balderrama said in a news release.
Officers were able to disarm the suspect and place him in handcuffs.
"The suspect continued to be combative towards the officers and thus officers placed the suspect in maximal restraints," Capt. Balderrama said.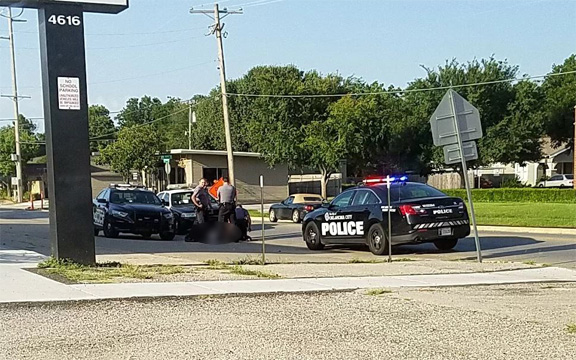 Officers say after placing the man in restraints, they noticed the man was in medical distress.
The man was reportedly having trouble breathing, police say.
Police officers removed the handcuffs and called EMSA to the scene.
The man was then transported to a local hospital where he was pronounced dead.
At this time, the man's exact cause of death is unclear.
On Thursday, authorities identified the man as 35-year-old DeAngelo W. Webb.
Three officers have been placed on paid administrative leave while officials investigating.
Those officers have been identified as SSgt. Chris Lambert, a 16-year veteran, SSgt. Jeff Sellers, a 15-year veteran, and Ofc. Jacob Thomas, who is in his first year of service.
No other information has been released at this time.