This is an archived article and the information in the article may be outdated. Please look at the time stamp on the story to see when it was last updated.
Baby Veronica will be returned to her adoptive parents in South Carolina.
The South Carolina Supreme Court announced the ruling Wednesday.
When little Veronica was 2 years old, the South Carolina couple who raised her was forced to hand her over to her biological father.
The father is from Oklahoma and used his status as a Cherokee Indian to argue that federal law guaranteed him the right to raise her.
He did this even though he had given up his rights to the girl before she was born and then changed his mind.
Last month, the U.S. Supreme Court ruled that the little girl should never have been returned to her biological father in Oklahoma.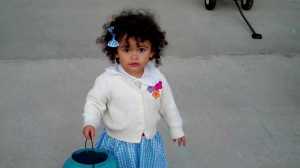 They said the Indian Child Welfare Act should not have applied in Baby Veronica's case because her father had abandoned her before she was born.
This week a South Carolina court has ordered that the little girl's adoption in that state be finalized and that she be moved from Oklahoma back to South Carolina to once again live with her adoptive parents.
Veronica's adoptive parents, Matt and Melanie Capobianco, issued a statement on the case.
"We are thrilled that after 18 long months, our daughter finally will be coming home," they said. "We look forward to seeing Veronica's smiling face in the coming days and will do everything in our power to make her homecoming as smooth as possible. We also want to thank everyone who has supported us throughout this ordeal. Our prayers have been answered." 
The birth mother, whose name has been withheld, said part of the reason she chose this family to adopt Veronica was because of the open adoption privileges.
She was part of her daughter's life while the South Carolina family had custody.
When Veronica came back to Oklahoma to be with her birth father, the mother was no longer able to have contact with her daughter.
The birth mother said in a statement:
"I am just over the moon by this news. All I've ever wanted was to give Veronica a life with Matt and Melanie, a life I could not provide for her. It has torn at my heart every day that she has been apart from them and I have missed being a part of their life over the past 18 months. I am anxious to see her again as soon as possible after she settles in back home in South Carolina."