This is an archived article and the information in the article may be outdated. Please look at the time stamp on the story to see when it was last updated.
MOORE, Okla. – Bahama Buck's is celebrating the spirit of the season by giving back to the communities they proudly serve!
On December 4, participating Bahama Buck's across the nation will be giving a free 12 oz. Sno to each guest.
This is the 12th year that Bahama Buck's has been celebrating the "coolest day of the year." More than 58,700 Snow were given out last year alone, so the company says they see "no better way to show appreciation than by continuing the tradition and doing what Bahama Buck's does best, serving up the Ultimate Tropical Dessert Experience."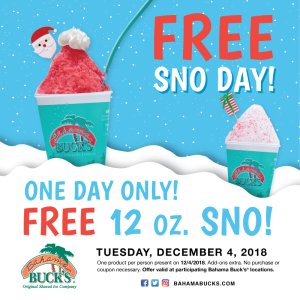 You can bring the whole family out to 761 SW 19th St, Moore, OK and 1468 N. Kelly Avenue, Edmond, OK, to get a free Sno on December 4.
No purchase or coupon is necessary!