This is an archived article and the information in the article may be outdated. Please look at the time stamp on the story to see when it was last updated.
OKLAHOMA CITY -- A metro man is hospitalized following an accident with an Oklahoma City police car.
The crash between the police cruiser and the bicyclist happened Thursday night near N.E. 27th and Martin Luther King Blvd.
"It's under investigation. We're trying to determine if our officer struck the bike or the bike struck him," said Oklahoma City police Capt Dexter Nelson.
The bike rider injured in the crash is 30-year-old Kaldwell Grant. Grant has a history of repeatedly driving on a suspended license.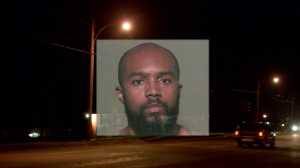 Police say in this case Grant rode his bike in the middle of the street without any lights on after dark, in violation of the law.
"Bicyclists have to abide by the same rules as motor vehicles," said Nelson. "You're supposed to have a light on at night, both front and rear, and it doesn't appear the bike had any light on it at all."
"To ride properly you need a headlight and taillight at night. That's law," said Jimmy Mueller.
Mueller owns a bike shop and is an avid rider himself.
He sells reflective vests and lights for bikes and says the key to safe night riding is to make yourself as visible as possible.
"The better you glow, the safer you are," said Mueller. "You need to have light clothing and be lit up at night. You need to be lit."
While police aren't sure who caused the accident, they don't believe their officer had been distracted at the time, nor did the officer appear to be speeding or responding to an emergency.
"He wasn't going on any particular call. It was night. He did not have on any emergency equipment. He was just like any other car driving down the roadway," said Nelson.
The officer wasn't hurt.
There's no word if he'll be disciplined for the crash.
The victim suffered minor injuries and was released from the hospital Friday afternoon.
He declined to talk about the crash.