This is an archived article and the information in the article may be outdated. Please look at the time stamp on the story to see when it was last updated.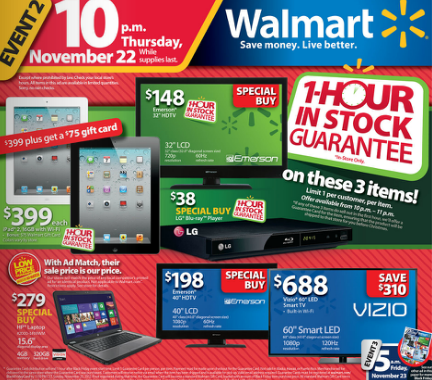 By:  Josiah Gorham for KFSM.
Walmart is hoping to start Black Friday earlier than ever before this year. 
The Bentonville-based retailer has unveiled their Black Friday ad and this year they're moving the deals back even earlier, with deals stating while some are still polishing off their turkey dinner.
Walmart has announced it will begin deals at 8 p.m. on Thanksgiving and will continue with different deals through the night until 5 a.m. Friday morning.
Click here to see your local Walmart Black Friday deals
The deals beginning at 8 p.m. include an XBOX 360 4 GB with SkyLanders bundle for $149 and Nintendo's Wii console for $89.
The deal also includes a $399 iPad 2, 16GB with Wi-Fi that includes a $75 Walmart Gift Card as well as a $38 LG Blu-Ray Player.
Walmart representatives say the new hours are in response to customers who want to shop early instead of losing sleep.
"We know it's frustrating for customers to shop on Black Friday and not get the items they want," said Duncan Mac Naughton, chief merchandising and marketing officer, Walmart U.S in a news release.
"This year, for the first time ever, customers that shop during Walmart's one-hour event will be guaranteed to have three of the most popular items under their tree at a great low price."
This year fighting over items is expected to come to an end thanks to a deal the retailer is offering.   If any of the 8 p.m. deal items happen to sell out before 11 p.m. local time, Walmart will offer a Guarantee Card for the item which must be paid for by midnight and registered online. The product will then be shipped to the store where it was purchased for the customer to pick up before Christmas.
Starting Nov. 19, to help customers prepare and navigate the big event, a Black Friday local store map will also be available to view and print on Walmart.com and local Walmart Facebook pages.
Also, for the first time, customers can view an interactive local store map on their mobile phone via the Walmart Mobile App, enabling customers to click on items to see the price, product description and location in the store.
Some of the top items available in store, while supplies last, include:
8 p.m. on Nov. 22: Gifts for the Entire Family – Toys, Gaming, Home and Apparel

Xbox 360® 4GB + SkyLanders™ Bundle – $149
Wii™ Console– $89
More than 100 video games priced at $10, $15 or $25 each
Top Toys of the Season: Leappad® 1.0 Learning Tablet ($65) and Furby® ($45)
Razor® Accelerator 12-Volt Electric Scooter – $79
Fisher Price Power Wheels® Jeep® Wrangler 6-Volt Ride Ons (Hot Wheels® and Barbie®) – $89 each
Licensed Boys' and Girls' 2-Piece Sleep Set – $4.50 each
Mens and Ladies Denim – $9.50 each
Home appliances such as a Crock Pot® 6-Quart Slow Cooker and Mr. Coffee®Programmable 12-Cup Coffee Maker – $9.44 each
Shark® Steam Pocket Mop and Ninja® Pulse Blender – $39 each
Fashion Dolls such as Barbie®, Bratz™ and Disney® Princess – $5 each
Hundreds of DVD and Blu-ray movies such as Brave, The Amazing Spiderman, Hunger Game ranging from $1.96 to $9.96 each
Better Homes and Gardens® 700-Thread Count Sheet Set – $19.96
48" Air-Powered Hockey Table – $29.86
14' Trampoline with Enclosure and Bonus Flash Light Zone – $159
10 p.m. on Nov. 22:  The BIG Event – Brand Name Electronics

Vizio® 60" 720p LED Smart TV with built in Wi-Fi – $688
Samsung® 43″ 720p 600Hz Class Plasma HDTV – $378
HP® 15.6" Laptop with 4GB and 320GB hard drive – $279
Nikon® D3000 Digital Camera with Lens Kit – $449
Samsung® Smart ST195 Digital Camera – $99
Beats by Dr. Dre® Headphones – $179.95
Nook® Color™ 8GB Tablet – $99
Virgin Mobile® 3G/4G Hotspot – $39.88
5 a.m. on Nov. 23: Caffeine Not Needed – Great Savings on Gifts from Jewelry to Tires

Sharp® 70" 1080p 120Hz HDTV – $1,798
Acer® 13.3" Ultrabook™ with 4GB and 320GB solid state drive – $499
$100 Walmart gift card with the purchase of select smartphones such as the Samsung® Galaxy S III, Droid RAZR M by Motorola® and HTC® One X
Goodyear Tires ranging from $59 – $99 each
Forever Bride 1/3 -Carat T.W. Diamond Ring in 10K Gold – $198
Stanley® 6-Drawer Rolling Tool Cabinet with 85-Piece Mechanic Tool Set – $99
Singer® Sew Mate 5400 60-Stitch Sewing Machine – $99.97
5" Pre-Lit Harrison Christmas Tree – $20
Better Homes and Gardens Deluxe Recliner – $199