This is an archived article and the information in the article may be outdated. Please look at the time stamp on the story to see when it was last updated.
OKLAHOMA CITY – In a controversial decision, the Oklahoma State Board of Health approved the rules for medical marijuana with a couple of exceptions.
On Sunday, the Oklahoma State Department of Health released an updated version of emergency rules for the Oklahoma Medical Marijuana Authority program. The 76-page document comes nearly two weeks after voters approved State Question 788, legalizing the use of medical marijuana.
However, the Oklahoma State Medical Association said the rules should also include three additional recommendations like banning smokable cannabis and limiting the number of dispensaries.
"The majority of Oklahomans do not want dispensaries on every corner or strip mall," said Dr. Jean Hausheer, president of the OSMA. "Instead, rules governing dispensaries should be consistent with how the health department already addresses other medical services by limiting the number and location of treatment beds and other services based on public need."
Hausheer said she did not believe the public knew what they were voting on when they approved State Question 788.
On Tuesday, the board approved the rules but excluded the definition of a dispensary manager. Also, it banned the sale of smokable marijuana, limiting that to homegrown products.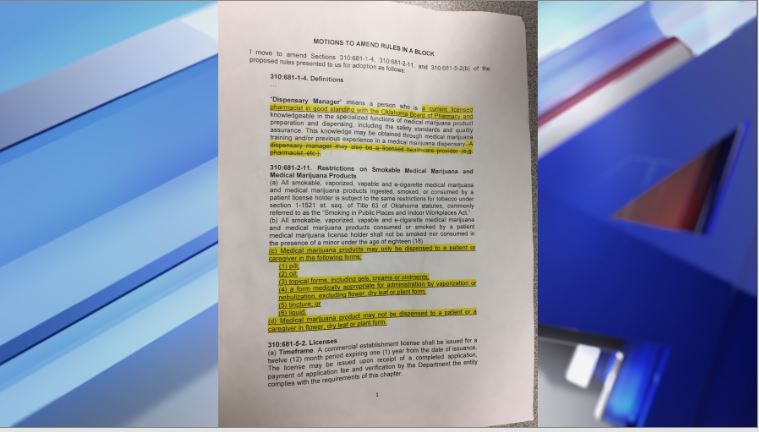 Officials say they expect legal challenges to the rules.
Ryan Kiesel, executive director of ACLU of Oklahoma, said litigation is imminent.
In banning all smokeable forms of medical cannabis in Oklahoma, the Oklahoma Health Department just guaranteed litigation. This is completely inconsistent with #SQ788 & a responsible medical cannabis program.

— Ryan Kiesel (@capitolkiesel) July 10, 2018
The head of New Health Solutions, Scott Bud, released a statement saying in part:
The Oklahoma State Board of Health today took steps to gut Oklahoma's fledgling medical cannabis program, despite a landslide electoral victory and the support of over 507,000 voters who supported legalization.
State Rep. Jason Lowe (D)- Oklahoma City was quick to respond to the decision:
The Oklahoma State Department of Health has enacted law that undermines one of the most participated in elections in state history and silences the voice of Oklahomans across this state. Today's decision is an affront to democracy and an insult to the law-abiding citizens that showed up to vote for this initiative. In order to ensure that the will of the people is protected from bureaucracy and to save the state from yet another embarrassing lawsuit, I am calling on the governor to immediately call for a special session so that the elected leaders of this state can implement the law as instructed by the citizens of Oklahoma.