This is an archived article and the information in the article may be outdated. Please look at the time stamp on the story to see when it was last updated.
EDMOND, Okla. - A group of Tae Kwon Do students and their coaches were finishing out their route and riding into the staging area when an 8-year-old boy either fell or jumped off of their float and then was run over with one of his family members driving.
We learned just shortly after the accident 8-year-old Aidan Hooper he did not survive.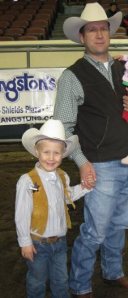 Witnesses watched as he was taken to the hospital, hoping for a different outcome.
Officers are relying on parade goers to find out just how he got off the float.
Officer James Hamm said, "We've been speaking with witnesses. Some have said he kind of physically got off and some he looked like he may have fell. So we're just trying to determine which one of those is accurate."
It was a tragic accident that officers were not expecting on an otherwise celebratory day.
"LibertyFest has been going on for many, many years and never had anything like this ever happen," Officer Hamm said.
LibertyFest President Robby Allen is beside himself and said they've never experienced tragedy in over 40 years.
"This is our 41 parade on record and we've never had a serious injury before," Allen said. "To the best of my knowledge, we've never had an injury that required medical transportation."
The little boy's Tae Kwon Do family stayed on the scene until they learned he had not survived.
Visibly shaken but staying strong for the family.
"I spoke to one of the coaches and she is obviously distraught," Allen said. "But her thoughts are that they are a strong knit family and a group and that they will stay together and be strong and they'll be just fine."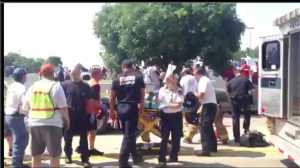 This is the first time LibertyFest has seen tragedy.
They said that's because it is always, an otherwise, safe event. In over 40 years LibertyFest hasn't even seen a serious injury that required medical attention until Thursday.
"The police department does these events, we work security because we want families to come out here and celebrate the Fourth of July and for everybody to be safe in a fun family atmosphere and it is always that," Officer Hamm said.
Everyone on the scene stressed this was an accident.
They said they take the safety of their parade participants and attendees seriously.
"We usually don't have any problems everybody follows the guidelines," Officer Hamm said. "Today they weren't really doing anything wrong."
Allen said they've always done everything they can to make sure this doesn't happen.
"All the parade entrants build their own floats they operate their own floats," Allen said. "They're required to have licensed drivers in good standing to operate them. They are invited to attend a pre-parade briefing if they choose to and then operate safely."
He has two more events to get through the but his mind is elsewhere.
Allen said, "Right now our thoughts and prayers are with this family of this little boy and the accident that happened."
The family and his school make statements on this horrible accident:
From the Family of Aiden Hooper:
We are devastated about the loss of our precious Aidan. He was full of unbridled energy, curiosity, and compassion for others. We thank everyone for their outpouring of love, but please ask for privacy as we grieve our child.
From the Deer Creek School District:
Deer Creek is horribly saddened by the tragic loss yesterday of one our students, Aiden Hooper a 2nd grader at Grove Valley Elementary this past school year. We offer our deepest condolences to the Hooper family and their friends.
Deer Creek would like to offer any assistance and support to the family, our community of parents, teachers and students.
Our Health and Wellness program and counselors are available to assist with grief counseling and community counseling resources.
We ask that anyone in need of help or support to contact the following number so that we can provide those in need with appropriate assistance, 405-348-6100 ext 1138.