This is an archived article and the information in the article may be outdated. Please look at the time stamp on the story to see when it was last updated.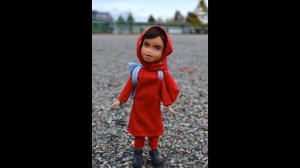 There are plenty of dolls shown traveling the world in high heels, with makeup layered on so thick it's like Halloween all the time.
But, how about some dolls children can admire, like activist Malala Yousafzai, primatologist Jane Goodall or author J.K. Rowling?
That's the idea behind Vancouver artist Wendy Tsao's 'Mighty Doll' project, in which she takes Bratz dolls – the hypersexualized figures known for their garish makeup, high fashion and heels – and turns them into women she wants children to admire.
Tsao was inspired by Australian mom Sonia Singh's 'Tree Change Dolls' project, in which Singh removed the makeup and skimpy clothes from Bratz and other dolls to show what child-like dolls look like.
"I was fascinated by the 'make-unders' – down-to-earth transformations of the Bratz doll – by Sonja Singh, and she encouraged others to try it," Tsao wrote in an email.
She took Singh's encouragement to heart and started Mighty Dolls about two months ago.
She reimagines Bratz dolls as real life heroines http://t.co/sta5ECE1Df @MalalaFund @JaneGoodallInst @Waris_Dirie pic.twitter.com/EFzDuXCQ2A

— Across Women's Lives (@womenslives) October 9, 2015
"My Mighty Dolls came about from reading the ongoing disparaging comments about Bratz dolls and Barbie dolls: Do these dolls negatively impact a child's body image?" Tsao said. "I don't know the answer to this question. But, it made me consider the alternative or opposite: Could a child learn something positive from their dolls?"
She decided to make dolls of inspiring women as young children and hopes to start selling them on eBay in the next few weeks.
"I wonder, if a child plays with this doll, will she have other conversations with her friends or family about this inspiring person and think about and learn things that she might not have, if she played with a Bratz doll, Barbie or Disney character?" Tsao said. "Will she understand, while playing with a young version of Jane Goodall, that Jane was a child once – like herself – who grew up to do things that were important to her? Will this have a positive impact on the child's idea of what happens when we grow up?"