This is an archived article and the information in the article may be outdated. Please look at the time stamp on the story to see when it was last updated.
OKLAHOMA CITY -- A budget bill that calls for cuts to several state agencies passed the Oklahoma Senate on Friday morning.
House Bill 1019 includes $60 million worth of cuts across various state agencies while also using millions in Rainy Day funds, carryover cash from last year, and revolving money. The bill also includes a recently passed measure to raise the gross production tax ('GPT') on legacy wells.
There are also cuts to the three agencies that would have received $215 million from the cigarette fee, which was deemed unconstitutional by the Oklahoma Supreme Court. Those agencies include the Department of Human Services, the Oklahoma Healthcare Authority, and the Department of Mental Health and Substance Abuse Services. They are now facing cuts between $4 and $15 million, far better than the alternative according to supporters of the bill.
"Healthcare is going to be in crisis mode in two weeks. We have to act now," bill author Rep. Kevin Wallace, R-Wellston, said Wednesday. "With the money we have, this is the best budget we have today."
Under this proposal, opponents say higher education would have to take a $17 million hit while the Department of Education, Election Board, and the Department of Corrections would be among those remaining unchanged.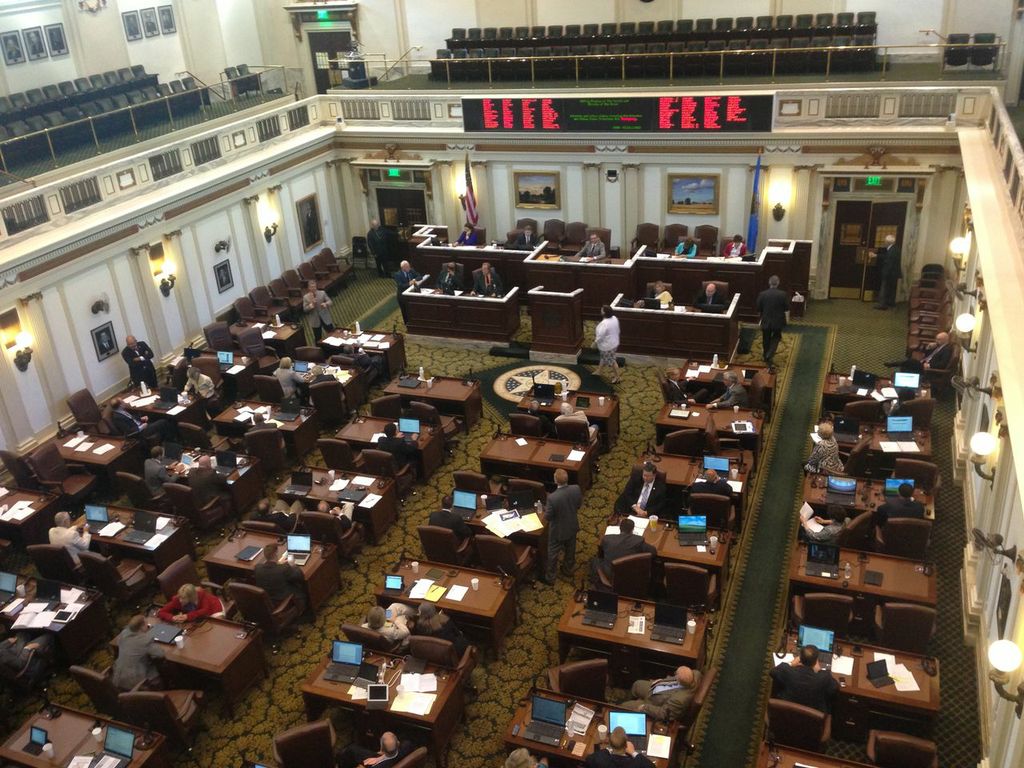 Speaking in opposition of the bill Wednesday, Rep. Matt Meredith, D-Tahlequah, claimed the House "played games" with a revenue package which failed last week. More than 80% of the Democratic caucus voted in support of a bill which would have put taxes on cigarettes, fuel, and low-point beer, while raising GPT on oil and gas wells.
Republicans failed to reach 75% of their caucus.
"I'm disgusted by that and each and everyone of you should be disgusted by that also," Rep. Meredith said Wednesday.
HB 1019 passed the Oklahoma House of Representatives on Wednesday afternoon by a vote of 56 to 38.
Following the vote, the bill was criticized by several organizations, and Gov. Fallin. 
"I'm very disappointed that we weren't able to come to an agreement on a way to fix our structural issues within our state budget. Let me be clear, these same agencies that provide for the health and safety of our communities, the elderly, poor, mentally ill, and children will continue to be at great risk. The Legislature is leaving close to a $550 million budget gap for next session, which starts in three months, mainly by using one-time gimmicks.

"Next year is an election year, and if we don't have the courage or will to put our house in order after one full legislative session and nearly eight weeks of special session, next year will be devastating. Just this week, I have been told we are losing out on new job and investment opportunities. The Department of Commerce has been notified 'we've taken Oklahoma out of consideration' because its budget is so unstable, it can't keep teachers and underfunds vital services. We are setting Oklahoma up for failure that will take many years to undo the damage we have done to our state's image.

"The special session is into its eighth week, and we have talked about different revenue proposals and ways to restructure our budget. Over my last three State of the State speeches, I have repeatedly urged the Legislature to stop kicking the can down the road and put our state on a budget path for success.

"As I told the speaker and pro tem as well as other leaders, my preference would be a revote on "Plan A+" that received 71 votes, just five votes short of passing. The leadership feels members won't change their votes. Secondly, I asked last week and this past Monday for at least a stand-alone vote on the cigarette tax, which is the reason why we are having special session. The leadership and I have been told that the Democrats will not vote for the cigarette tax as a stand-alone vote. So it's dead, too, yet the Senate still has a vote on the latest budget plan.

"This is not what I want, and I can tell you the majority of the Legislature doesn't want it either. The House did get to 71 yes votes on a revenue-raising plan, which, when you include the Senate's 37 yes votes on a similar measure, was more than a majority of the Legislature. However, getting past the hurdle of State Question 640, which was passed by voters in the early 1990s and requires three-fourths passage on revenue-raising measures, has been difficult.

"I have told our legislative leaders that I would veto any bill that makes severe cuts of $90 million or more to state agencies and spends the $83 million in cash reserves. When a budget bill comes to my desk, I will need to review any additions or changes to what has previously been discussed with our leaders."
On Friday morning, the Senate passed House Bill 1019 by a vote of 29 to 14.
The measure now heads to the governor's desk.