This is an archived article and the information in the article may be outdated. Please look at the time stamp on the story to see when it was last updated.
STILLWATER – Oklahoma State University police evacuated and blocked off a bus station and parking garage Thursday morning after a bomb threat was called in to the campus operator at 8:45 a.m.
OSU Chief of Public Safety Michael Robinson said the call came from a woman who had an Oklahoma area code – authorities are tracing its origin.
"We believe that the voice was that of a woman," he said.  "She called in and the threat was specific to this facility.  We had officers here, literally, within a minute."
The threat was aimed at the OSU Multimodal Transportation Terminal at Hall of Fame and Monroe.
Some students who had vehicles parked inside the garage had to wait outside for hours before being escorted by authorities to retrieve their cars.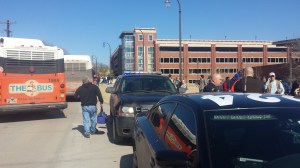 "It's a little nerve wracking," OSU student Macy McIntire said.  "I'm on my way to class, kind of keeping my guard up.  You never know."
"You never know what people are going to do," student Summer Jefferies said outside the parking garage.
Oklahoma Highway Patrol bomb squad dogs made sweeps the facility, but found nothing.
The scene was cleared shortly after one p.m.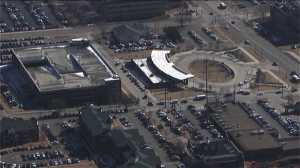 "It's a crime and it should be a crime," Robinson said.  "In my opinion, it's a form of terrorism to do that because you're using fear and intimidation to disrupt the lives of free citizens and innocent people, so we take that very seriously."
OSU sent a campus alert at 1:10 p.m.saying:  "The OSU Multimodal facility and Monroe Parking Garage are now open and operating as normal. The Oklahoma Highway Patrol bomb squad found nothing suspicious following a secondary sweep of the facilities.  Special thanks to the emergency responders who helped investigate today¹s incident and for everyone¹s patience as they did their work."