This is an archived article and the information in the article may be outdated. Please look at the time stamp on the story to see when it was last updated.
OKLAHOMA CITY -  We've been hit by so many earthquakes recently a lot of Oklahomans are looking at ways to insure their home against damage or at least figure out a way to make their home earthquake resistant.
It now appears one Oklahoma couple has found a solution.
Here in Oklahoma we deal with our fair share of natural disasters.
Most of the time we can weather proof our homes to save it from damage and even in some cases our lives, but there is one act of Mother Nature that we really have little experience with; earthquakes.
There is one Oklahoma couple who's dealt with one before and may have just found a way to earthquake proof their home.
"They built it all open because we have a large family," Jimmy Snyder says, "That earthquake may have torn down my house, but it didn't tear down my family."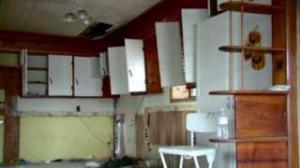 Their family is still growing. They had 34 family members over just the other day for dinner and their home is brand new from the ground up.
It was rebuilt after an earthquake compromised the structure of the house they lived in for nearly forty years.
At the time it was the oldest in the small town of Dale. Now their home is one of the newest.
"It's taken a little bit to get used to," Snyder says.
Some adjustments have been made on the inside. It has a more open floor plan. Outside there is a small gap in the mortar; about an inch wide that the builder put it there.
And he says it may just help curb damage of future seismic activity.
"It'll help break the movement of the house," Mrs. Snyder says. "It's to help with the expansion if your bricks move or anything like that."
It's never been proven, but the builder says he's been using this technique in houses for years to help with the shifting Oklahoma soil and Jimmy Snyder hasn't felt a quake since.
"Of all the earthquakes we've had in the past several months, I've never felt a one of them," Snyder says.
There's one on the north side and one on the south side of the Snyders' home.
Back in 2011 the California Earthquake Authority visited the Snyder's but they had not seen their new home or the relatively unheard of expansion gaps on the exterior walls.
What they do know are ways to secure a home.
"The state of California has earthquake building codes in place for new construction but there are no codes in Oklahoma or any real experience in our state of retrofitting existing structures," Janiele Maffei, with the California Earthquake Authority, says.
But in California the Earthquake Authority and FEMA are working together to come up with codes for older homes, not only for that state; but the rest of the country.
Earthquake insurance isn't required in Oklahoma. It's offered as a tack on to regular coverage. But, there are things you can do to prevent other claims.
"Avoid hanging any kind of artwork over your sleeping areas," Mai McCoy, Insurance Agent, says. "Purchasing a strap down kit for your water heater [is a good idea], because water heaters tend to be a little top heavy and if there is shaky movement it could topple over and pull out the gas line or the electrical connection."
Flexible gas or water lines can also give appliances a little wriggle room.
While there are no discounts for any of these adjustments, it never hurts to be prepared.
Insurance discounts are not given for any earthquake retrofitting, but some agencies we spoke with say that may soon be in the works.