This is an archived article and the information in the article may be outdated. Please look at the time stamp on the story to see when it was last updated.
OKLAHOMA CITY –  High winds and warming temperatures are forcing fire danger into the extreme category.
Gov. Mary Fallin has issued an executive proclamation to put 36 counties under a burn ban.
The following counties are included in the burn ban: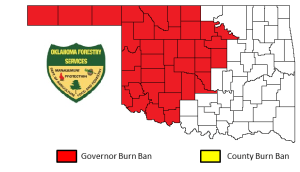 Alfalfa County
Beaver County
Beckham County
Blaine County
Caddo County
Canadian County
Cimarron County
Cleveland County
Comanche County
Cotton County
Custer County
Dewey County
Ellis County
Garfield County
Grady County
Grant County
Greer County
Harmon County
Harper County
Jackson County
Kingfisher County
Kiowa County
Lincoln County
Logan County
Major County
McClain County
Noble County
Oklahoma County
Payne County
Pawnee County
Roger Mills County
Texas County
Tillman County
Washita County
Woods County
Woodward County
The executive order bans outdoor burning for nearly half of the state.
It makes it illegal for anyone to set fire to any forest, grass, woods or marshes.
It is also prohibited to build a bonfire, set off fireworks or burn trash.
In addition to the 36 counties under the burn ban, Gov. Mary Fallin declared a State of Emergency for all 77 counties because of the threat of wildfires.
Under the executive order, agencies can make emergency purchases to help residents.
How to help protect your home during high fire danger
The Oklahoma Forestry Service is reminding Oklahomans to be vigilant:
Precautions should be taken with any outdoor activity that could spark a blaze.
Report any smoke or fire to the closest fire department immediately.
Do not drive on a flat tire or drag chains or wires along pavement.
Fire officials said burning without a permit during a burn ban could result in fines from $177 to $1,200.
PREPARE: What to do if you are forced to evacuate for wildfires