This is an archived article and the information in the article may be outdated. Please look at the time stamp on the story to see when it was last updated.
SHAWNEE, Okla. – Shawnee police are looking for two thieves who stole hundreds of dollars from Shawnee Suds Carwash.
The brazen burglary was caught on camera.
"It surprised me whenever the truck backed up to it," Allen Green said, caretaker of the carwash. "Watched it all on video, take off flying through the air."
"It was kind of shocking," Jay Scott Brown said, owner of Shawnee Suds Carwash. "You have to take a double take because it's always there and now it's gone."
It happened late Monday night, just before midnight.
Two suspects used their car to pull the kiosk out of the ground.
Green was the first one on scene.
"First thing I saw was wires hanging everywhere and the pay station was gone," Green said.
A cluster of wires is the only thing left after thieves stole the pay station.
The owner said he hopes to use social media to help police catch them.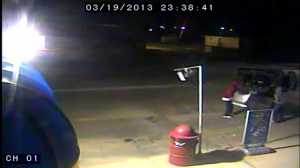 Brown posted the video on his company's Facebook page and in less than two hours, more than two thousand people watched it.
"We felt like since we had some good visual information about who these people might be that we were going to get right on it," he said.
"Plus everybody else is posting it on their Facebook pages so that's helping us a lot right there," Green said.
The community is coming together to help put an end to the Carwash Crooks, one "share" at a time.
"When you do have a time of trouble it's nice to see that people are also outraged when they saw what happened," Brown said.
"I just hope they catch them," Green said. "If they had the guts to do this, they should have the guts to get out and get a job."
The thieves got away with a few hundred dollars in cash but it will cost Brown several thousand dollars to replace the equipment.
"It's not worth it," Green said. "Five, $600 ain't worth what it's going to cost them to go to jail."
"Its just people who are disrespectful of the law and other people's property," Brown said.
Brown said he is sure police will find the thieves soon.
As a businessman who strives to serve the community, their support means the world to him.
"This time they're able to help me and I appreciate it greatly," Brown said.
A $1,000 reward is being offered for information leading to the thieves' arrest.
Shawnee Suds Carwash also wants to assure the public that their credit card information is safe.
None was stored in the equipment that was stolen.