This is an archived article and the information in the article may be outdated. Please look at the time stamp on the story to see when it was last updated.
EDMOND, Okla. -- There's about to be a massive headache for drivers along an already congested area.
Starting sometime this summer, drivers at 33rd and Broadway in Edmond will run into more delays due to a planned expansion project.
City officials in Edmond say it is the busiest intersection in town. While construction will never shut it down completely, lane closures could slow traffic down even more. But they say the construction is necessary in order to eventually ease the congestion.
Dora Stevens, at Freedom Cleaners, said, "This traffic right here at this intersection is absolutely horrible!"
"I hate to leave here at 6:00. It seems like it takes a half hour just to get through the stoplight to get on the highway," she said.
But the area is about to go through a major change.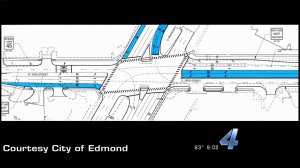 In a joint project between ODOT and the City of Edmond, the intersection is going to have new turn lanes added in several directions,in an attempt to speed up the traffic flow.
"Honestly, this will be maximized, there won't be anything we can add to 33rd and Broadway once this is complete," Casey Moore, with the City of Edmond, said.
Construction is expected to start sometime this summer, and the project is estimated to take one year; there will be incentives offered to the contractor for early completion.
However, the city is encouraging drivers to take action now and find an alternate route until the project is complete.
They're asking drivers to consider using Kelly, Boulevard, or even Santa Fe for north or south bound travel, and Memorial Rd. or 15th St. for east or west bound traffic.
"It's just going to be difficult, but it is much needed work," Moore said.
Those who drive through the area daily aren't looking forward to the construction delays, but they are trying to stay positive.
Stevens said, "Anything to make it more accessible I think would make it great."
While there will be frequent lane closures, and ODOT says they will work to keep at least two lanes open north or south and at least one east/west lane open at all times.
ODOT will also post daily traffic updates to help drivers plan for changes from one day to the next.