This is an archived article and the information in the article may be outdated. Please look at the time stamp on the story to see when it was last updated.
OKLAHOMA CITY – While lawmakers are still working to come to a resolution before a potential teacher walkout, school districts across the state are making preparations to close their doors.
The Oklahoma Education Association is seeking a $10,000 pay raise for Oklahoma teachers over three years, a $5,000 pay raise for support professionals over three years, a cost-of-living adjustment for retirees, and the restoration of funding for education and core government services.
OEA announced that it is tentatively planning a teacher walkout for April 2 if legislators didn't increase teacher and staff pay.
If the walkout occurs, schools across the state have announced that they will close.
With the walkout just days away, lawmakers are scrambling to approve a plan that meets at least some of the OEA's demands.
HB1010XX, a $447 million tax increase plan, passed the House late Monday evening by a vote of 79-19. It needed 76 votes to pass as a revenue-raising measure, which had not been done since 1990.
House 1010XX includes:
5 percent gross production tax (GPT)
Motor fuel tax: 3 cents on unleaded, 6 cents on diesel
$1 tobacco tax, rather than $1.50 as previously proposed
$5 hotel/motel tax on any room booked in Oklahoma.
The plan offers an average $6,000 pay increase for all teachers, but it starts at $5,000 for first-year teachers and is expected to gradually increase over time.
If the revenue raising measures pass, it would allow lawmakers to raise the minimum salary schedule for teachers under House Bill 1023.
Now, the Oklahoma State School Board Association is providing a clearer picture for what teachers could expect if the bill passes.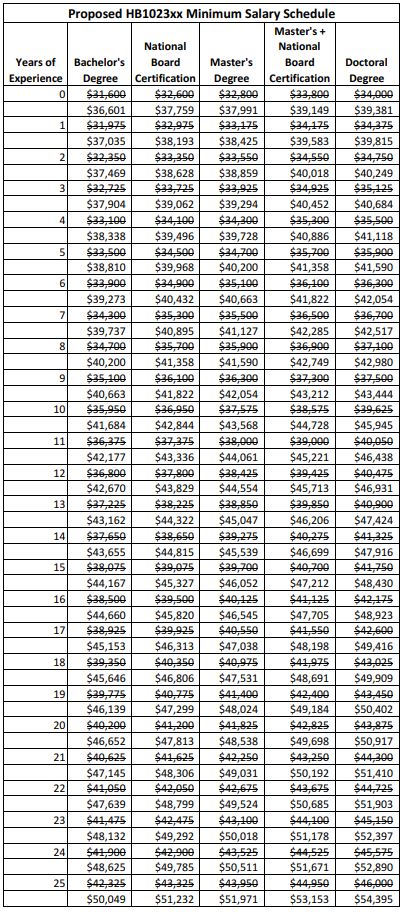 Alicia Priest, president of the Oklahoma Education Association, said a planned walkout by teachers is still on for April 2.
"28 percent cuts over the last 10 years – those are historical cuts. It's going to take historical action and forward thinking in order to solve this problem," Priest said. "We asked for $10,000 over three years. This gets us part of the way there, and so we need to have the Legislature guarantee that we are still working to get to that."
Priest said the plan also does not address operational funding for schools, adding the passage in the House was only one hurdle that needed to be overcome. The plan must also pass the Senate and be signed by Gov. Mary Fallin.