This is an archived article and the information in the article may be outdated. Please look at the time stamp on the story to see when it was last updated.
Kansas City, MO (KCTV) — Caesar, a German Shepherd who was recovering after nearly freezing to death, has lost his battle with cancer and died.
Missouri German Shepherd Rescue shared the sad news, saying that Caesar had died on Saturday morning.
His owner had dropped Caesar at the shelter around Christmas in 2016.
He had been chained and seriously abused. He was unconscious, frozen, and starving. He had heartworm disease, serious hip and spine problems, a withered and unusable leg, and was blind in one eye because of trauma.
"With the support of the Kansas City community and people from around the world, Missouri German Shepherd Rescue spent months bringing him back from the brink only to discover he also had cancer," the organization said in their release.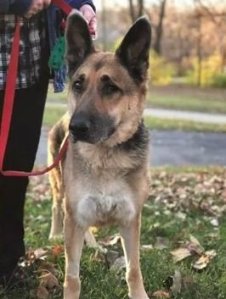 "He did go through cancer treatment, but in the last few days, the cancer spread rapidly," she said. "With great sadness, his rescuers and caretakers at Missouri German Shepherd Rescue made the agonizing decision to let him go."
"He slipped away quietly at his foster home, surrounded by people he loved and who loved him," they noted.
After a life of abuse, Caesar was able to live a routine that was full of "fun, freedom, and love" with his foster family for 15 months.
"Caesar was a fighter," the organization said. "His message was simple: Fight animal cruelty. Fight it hard. Take it seriously. Abolish it. Make the consequences harsh. Put abusers in jail. Caesar barely survived cruelty that lasted for years and his legacy is a reminder to us all that we have to come together to stop this terrible cruelty."
"Caesar came to us at Christmas, a gift and an inspiration," they said. "He left us at Easter, a reminder that hope and life are eternal."