This is an archived article and the information in the article may be outdated. Please look at the time stamp on the story to see when it was last updated.
OKLAHOMA CITY – Police are hoping the public can help them catch some suspected thieves who made off with over $17,000 worth of designer watches.
A surveillance video from the Dillards at Penn Square Mall shows a heavy-set woman trying to go behind a jewelry counter before realizing she could not fit.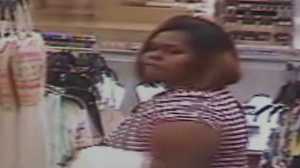 Police say a few minutes later another woman went behind the counter, while the first woman stood as a lookout.
It only took them about two minutes to steal over 70 watches.
Police believe there may be a third suspect who distracted the clerk while the other two women were getting away with the merchandise.
If you have any information, please call Crime Stoppers at (405)235-7300